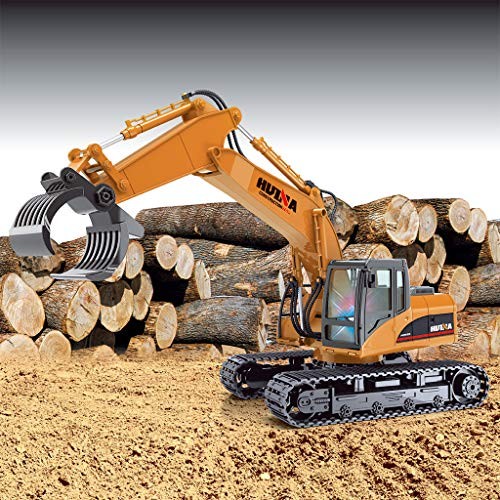 Remote Control Excavator Toys for Boys
Ships FREE with $25+ order
Gift wrap is available
Satisfaction guaranteed
Easy returns
Buying Options
Estimated delivery
1 to 3 business days
Expedited delivery available.
❤️Details and Reality: The professional heavy duty grab wood machine toy model is the most realistic replica of the excavator construction tractor. This powerful and well-structured heavy-duty tractor excavator features a 1:14 scale with its powerful motor and heavy-duty rubber track tires, all available. 
Motors on 3 separate motors: The 15-channel construction truck is not a small children's toy it can excavate 3 powerful independent motors and heavy steel shovel on its digging arm in any direction transporting wood etc. from one Place to another place or dump truck. The excavator rotates 680 degrees forward backward right left and down. No restrictions in any direction Collectively high quality: RC Grapple Fork excavator tractors not only look like real excavators but are also as durable as real excavators. The construction vehicle toy is made of heavy materials and the shovel is made of real steel so it can actually be excavated. Because the remote tractor is also very detailed in design it can be beautifully displayed as an excavator model with realistic excavator lights which makes you more fun in the construction site setting. Manufactured by Yirise. Everything:
Excavator toys
include everything you need! Excavator 2.4Ghz transmitter 7.2v 400Mah truck rechargeable battery USB charging cable transmitter requires 2 AA batteries (not included) Recommended age is 8 years old or older DURABLE MATERIAL: The remote control rc excavator is made of high quality ABS plastic material. The rc truck excavator is non-toxic and environmental to ensure long-lasting performance and 100% safe for kids. Kids can study by playing It such as drive skill building skill and help kids to practice their hand-eye coordination. Details and Reality: The professional heavy duty grab wood machine toy model is the most realistic replica of the excavator construction tractor. This powerful and well-structured heavy-duty tractor excavator features a 1:14 scale with its powerful motor and heavy-duty rubber track tires all available.
Customers Also Bought
Product Details
| | |
| --- | --- |
| SKU | etp-ex-B0875R6GH9 |
| Quantity Available in Stock | 24 |
| Manufacturer Part Number | Yirise |
| Packaged Product Weight | 5.2 |
| Category | Engineering Toys |
Remote Control Excavator Toys for Boys - PREBOX Rc Excavators Metal Shovel...
【Builders of the Future】Dig, lift, carry and transport! Build a sand castle on beach, or build a secret bases in kids' bedroom. Offers limitless fun inside and outside.
【Powerful functions】 With metal shovel, 360°rotation platform, rubber tracks and decent lights and sounds, this remote control excavator is an excellent construction toy for boys 4-7 yr and up
【Great to Beginner & Construction Lover】 Introduce boys to construction vehicles with 1:18 Rc excavator.your kids will unconsciously boost their hand-eye coordination while they having fun.
NEXBOX Remote Control Excavator Toys for Boys Age 4-7 8 9 10 Year Old -...
【Remarkable Excavator Toy】Amazing details include alloy shovel, powerful engine, 2.4Ghz multi-channel controller, lights & sounds. Build kids' own secret base with imagination and creativity instead of playing screen games.
【Perform Tricks Indoor & Outdoor】Dig, lift, carry and 680° rotating. Drive on carpet, sandbox, beach or other rugged terrains. Let's take action-packed construction adventure together!
【Featured Multi-channel Joystick】Your little kids will be attracted by mechanical sound and flexible robotic arm that controlled by the authentic & easy-to-use joystick.
Remote Control Excavator Toys for Boys with Extra Rechargeable Batteries...
【Nurture Your Child's Interest in Construction】Win parent of the year when you gift your child this excavator toy that looks, functions, and sounds like a real construction vehicle, including a "steering wheel" remote control that's easy to use and turns any sandbox, backyard, or play space into a fun construction site
【Super Cool Realistic Features】This realistic toy is made for kids fascinated by construction with a workstation base that rotates 360°, headlights that light up, simulated digger sounds, rubber rack wheels that won't fall off in the dirt, an extendable boom arm with a die-cast metal shovel for heavy lifting, and a 6-channel remote control that feels like a steering wheel
【Frustration-Free Fun】Included are two sets of rechargeable batteries that run for two hours and charge using a USB in forty minutes, so you'll always have a spare ready to go; The long-range, RC steering wheel is multi-directional, easy to use with one click digging and unloading, and arrives paired with the excavator, so there's no struggling with technology while your kid waits to play
kolegend Remote Control Excavator Toy 16 Inch, 9 Channel RC Construction...
【9 Channel Full Functional】This RC excavator can go forward/backward, turn left/right, rotate 350-degree and turns 360-degree in the situ. It digs loose sand like a real thing. Auto demonstration also help little kids better operate and increase their interest in construction toys.
【2.4Ghz Anti-interference, Auto Pairing】No need to sync remote and excavator. 10-100 feet control range or more. You can play multiple 2.4Ghz toys at together without signal confusing. Playing with other kolegend construction vehicles will give kids more fun of coordination.
【Protection Plan, Worry-free】All excavators come with free protection plan. We promise to exchange all orginal defetive items and offer free spare parts. For any concern, please reach out our after-sale support team.
HYW Remote Control Excavator and Earthmoving Truck Set of 2 Toy, Swivel Cab...
Great Value Set: Our playset includes 1 excavator and 1 haul truck,plus 2 remote controls.Also comes with 3 rechargeable batteries and two USB charging cables.You can use an excavator to dig sand or even small toys,and you can also use an earthmoving truck to transport it,so that children can experience double the fun.
Real Experience: The remote control has the function of forward or backward,turn left or right,you can control the direction and distance flexibly and conveniently.The excavator remote control also has the functions of one-button demonstration and digging arm control,with sound effects during the excavation process,simulating mechanical actions,and easy digging with strong arm force,just like in a real construction site.
Play anytime anywhere: The excavator uses a simulated rubber track,which has strong power and can easily cope with a variety of road surfaces.It is resistant to wear and is not easy to break,and can be played indoors and outdoors.The configuration remote control adopts antenna technology,high-strength signal,can be remotely controlled,and the operation is simple.The remote control distance of the excavator is 12m,and the remote control distance of the pulling truck is 7m.
DOUBLE E Remote Control Excavator Toy 2 Batteries Digger Hydraulic...
Enlightening & Edutainment-- The excavator toy works like a real thing. It not only helps kids develop imagination & creativity of vehicles, but also inspires their interests of associated professions. Suitable for indoor and outdoor playing including home, kindergartens, nursery schools and playrooms.
√Full Functions, More Fun-- This digger toy goes forward/backward, turn left/right, digs and moves loose sand, rotates in situ and cab turns 350-degree (175-degree each direction). It has sold over 50,000 units. High quality and fun
√Extra Battery, Last Longer -- The rc toy comes with two 3.6V, 800 mAh batteries, providing double playing time. Your kid can keep playing when the other battery is charging. All batteries passed MSDS test and ensure safety. There is Automatic Power-off Protection. It will automatically disconnect the power to protect the battery.
Gili RC Excavator Toy, Remote Control Hydraulic Toy Car for 4, 5, 6, 7, 8...
⛽Full functional RC Excavator for Kids: With 350° rotating cab, working hydraulic, flexible articulated arm and digging shovel, this 1/26 heavy duty digger is more than an exquisite model toy, it operates like a real construction vehicle. Powerful and sturdy rubber belt track make it possible to go freely on various terrains, such as yard, grassland, gravel road, and some bumpy grounds etc. size: 12.5*4.75*6.75 inches
🚧Anti-interference Radio Controlled Cars: Each vehicle is an updated version with different frequency and a control range within 100 feet or More. Suitable for multi players to drive at the same place and time. Push the control buttons(8 channels) to make quick work of difficult digging job like a pro. Go forwards, or backwards, turn left or right, lift arm up or down, pick up and move dirt. Develop children's hand-eye coordination and motor skill.
🔅Outdoor Sand Toys for Toddles: Little engineers can spend hours driving their tractor toy on the beach or on the yard. Scooping up sand, transfering, and dumping on their own construction site!
TEMI Kids Race Track Toys for Boy Car Adventure Toy for 3 4 5 6 7 Years Old...
PERFECT CHILDREN'S TOY SET - This car adventure toy has the perfect design, with 6 buttons and 8 different challenges, 3 mini cars: police car, ambulance, red fire truck(or yellow taxi). It helps to train and improve children's motor skills and hand-eye coordination by guiding children through every obstacle and challenge.
NO BATTERY REQUIRED - Guide the toy for Kids 3-5 Years Old through the obstacle and pass each challenge, let children immerse themselves in the world of transportation or car adventure. Built-in mechanical linkage track, inertial vehicle track, no battery required. The stable physical structure makes the product stronger and not easily damaged.
CHILD-FRIENDLY MATERIALS - This track table vehicle set is made of high-quality and non-toxic ABS materials, has passed physical and mechanical tests, meets toy standards. Ideal toddler toys for age 3-4. Round edge and smooth surface design let you no longer worry about children will get hurt.
Onadrive Remote Control Excavator Toy, RC Excavator Toys Truck with Metal...
FULL-FUNCTIONAL EXCAVATOR TOY: The RC construction vehicle has a realistic appearance. With the remote controller, you can flexibly and conveniently control the directions and distances. The remote control construction vehicle can achieve forward or backward, turning left or right, digging, 360 °degree rotation Key Product Features Key Product Features
OUTDOOR SAND TOY: Kids can spend hours playing this excavator toy on the beach or on the yard. Scooping up sand, transfering, and dumping. Rechargeable battery for long life performance to increase more enjoyment
HIGH QUALITY MATERIAL: This Excavator Toy is made of 100% high-quality ABS plastics and metal shovel which is durable, light and non-toxic with strong crash resistance. Its new materials & strong shockproof body can help to reduce the damage of falling Key Product Features
DOUBLE E Remote Control Excavator RC Toy 1:20 RC Excavator Toy 3 Separate...
DETAILED AND REALISTIC: The DOUBLE E Professional Heavy Duty Excavator Toy is the most realistic replica of an excavator construction tractor. Built on a 1:20 Scale and its powerful motors, and the heavy rubber track tires, all functions are possible with this extremely powerful and well built heavy duty construction tractor excavator.
3 SEPARATE MOTORS ON DIGGING ARM: The DOUBLE E 11 channel construction truck can really dig in any direction with the 3 powerful separate motors on its digging arm.Cab turns in a 660 Degree rotation, no limit to any direction,works exactly like a real excavator .Equip with a exclusive auto-demonstration function to help your kids get hang of this vehicle quickly.
SUPERIOR CONTROL EXPERIENCE: The Construction toy rc excavator is equipped with a powerful 2.4ghz transmitter which enables you to operate at a distance of at least 100 feet or more,it can also support multiple vehicles play together without interference