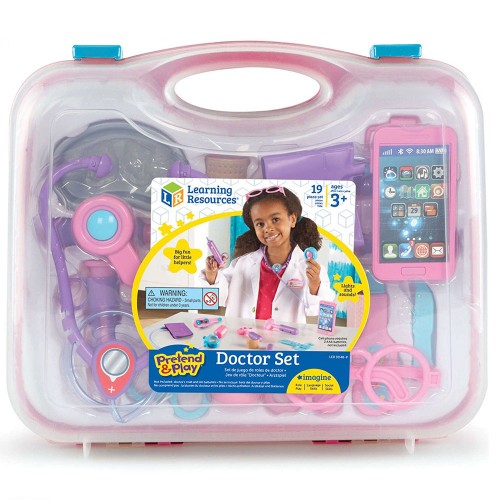 item number w-lr-9048-p
Pretend & Play Doctor Set 19 pc Pink Case
List Price
39.99
Lowest Price

22.3

You Save
$17.69 (44%)
Ships FREE with $25+ order
Gift wrap is available
Satisfaction guaranteed
Easy returns
Buy Now
Estimated delivery
1 to 3 business days
Expedited delivery available.
Learning Resources Doctor's Seith with its cool medical tools now available in girls' favorite pink colors!
Develops skills: Pretend Play, Imagination
Awards: Oppenheim Toy Portfolio - Platinum Award, Family Fun - Toy of the Year Finalist, Fort Worth Child Magazine - Toy Test Winner, Toy Tips - Top Rated Toy, Canadian Toy Testing Council - 3 Star (highest) Rating, Great American Toy Test - Winner
Have you ever dreamed of being a doctor? Of using real doctor tools and healing patients? Now, you can save patient's life with our amazing kids doctor kit from Learning Resources. The award-winning toy Doctor Set from Pretend and Play series comes in pink edition now! This doctor's playset allows you to heal, care for, and save various human, animal or doll patients as you work as a doctor. You can use the toy stethoscope, forceps, thermometer, bandage, blood pressure bulb and other amazing play doctor tools to care for patients. Educational Toys Planet's top doctor toy for children also comes with a cell phone and pager with cool sounds, so you are well prepared for any emergencies. And, when you are done with all your work, you can neatly tuck away all you doctor supplies into the handy plastic clamp-tight case that comes included in the set. The girls favorite medical set features 19 quality pieces. Batteries for toy stethoscope and pager included. Cell phone from the pink Doctor's Set requires 2 AA batteries (not included).
Customers Also Bought
Product Details
| | |
| --- | --- |
| SKU | w-lr-9048-p |
| Manufacturer Recommended Age | 3 years |
| Brand | Learning Resources |
| MSRP | 39.99 |
| Quantity Available in Stock | 13 |
| Manufacturer Part Number | LER9048-P |
| UPC | 765023890488 |
| Amazon ASIN Code | B00Z0IIDUQ |
| Category | Doctor Toys |
Learning Resources Pretend and Play Doctor Kit - 19 Piece Set, Ages 3+ Doctor Kit for...
EDUCATIONAL ROLE PLAY: The doctor set features enough medical tools for the whole junior surgical staff to operate while helping to ease anxieties about check-ups
19 piece set includes: stethoscope, cell phone, forceps, 3 bandages, eyeglasses, name tag, scalpel, thermometer, tweezers, syringe, blood pressure cuff, scissors, reflex hammer, bedpan, ear scope, and dental mirror.
Plastic carrying case measures 14.5"L x 3.38"W x 12.5"H, has a place for everything and provides great storage.
Batteries: stethoscope (included), cell phone requires 2 AAA batteries, not included
GIVE THE GIFT OF LEARNING: Whether you're shopping for holidays, birthdays, or just because, toys from Learning Resources help you discover new learning fun every time you give a gift! Ideal gift for Halloween, Christmas, Stocking Stuffers, Easter Baskets or even for Homeschool.
Learning Resources Pretend and Play Doctor Kit for Kids, Pink Doctor Costume, 19 Piece...
Product 1: SKILL DEVELOPMENT: Social & Behavioral, Self-Help, Language, Fine Motor
Product 1: 19 piece set includes: stethoscope, cell phone, forceps, 3 bandages, eyeglasses, name tag, scalpel, thermometer, tweezers, syringe, blood pressure cuff, scissors, reflex hammer, bedpan, ear scope, and dental mirror.
Product 1: Plastic carrying case measures 14.5"L x 3.38"W x 12.5"H, has a place for everything and provides great storage.
Product 1: Batteries: stethoscope (included), cell phone requires 2 AAA batteries, not included
Product 2: SKILL DEVELOPMENT: Imagination, Role play, Social skills
Product 2: Your little healer will love pretending to be a doctor with this set
Award Winning Hape Doctor on Call Wooden Toddler Role Play and Accessory Set Red, L: 7.5,...
Classic design and styling is perfect for the little nurse, doctor, vet, EMT, or physician's assistant in your life!
Includes seven pieces: from a stethoscope to compact carrying case
Encourages imaginative role play and storytelling
Hape toy finishes are all non-toxic, child safe and of the highest quality
Recommended for ages for 3 years and up
German (Publication Language)
Loyo Medical Kit for Kids - 35 Pieces Doctor Pretend Play Equipment, Dentist Kit for Kids,...
👨‍⚕️TOY DOCTOR KIT FOR KID TO ROLE PLAY👩‍⚕️: Help children learn about the human body and calm doctor-related fears as they engage in doctor/patient role play with this kid doctor kit. Or pretending to play the dentist cleans his teeth and the children's medical kit teaches the child to familiarize himself with all the gadgets and equipment used by the doctor.
🔊REALISTIC SOUND & LIGHT EFFECTS🔦 BRING MORE FUN: Sensory exploration through playing of sight and hearing for toddler. The stethoscope produces an authentic real-life heartbeat sound, Blood pressure cuff is squeezable and the arrow is moving as the air pushes it but it does not inflate. And more tools can light up, too. Batteries are included for your convenience.
💪STURDY, CHILD-FRIENDLY DESIGN👶: Our pretend play toys are meet the safety requirement of ASTM, Design with Smooth and rounded edges, no sharp points or corners which is safe for kids during play. This pretend toys set is made of environmentally friendly and child-safe plastic, is easy to clean for the utmost hygiene.
🎁EASY STORAGE & CARRY🎁: This medical doctor kit, all 35pcs can be stored into the sturdy doctor kit case, keep your home neat and no-mess. With a handle, easy to take away for travel. Snap-lock latches keep the doctor toy case securely closed, it can be operated easy for children to handle.
🎁PERFECT XMAS GIFT FOR KIDS🎁: This kids doctor kit was recommended for kids age 3 years and up.They can dress like a doctor with cap. Perfect for Party, Pretend Play, Role Play, School Classroom, Holiday Toy Gifts, Christmas Gifts and More.
GOOSH Doctor Kits Toys 35 PCs Pretend Play Doctor Nurse for Toddlers, Medical Kit with...
Learning while playing - These doctor role play sets will teach your baby how to take care of their oral health, develop a good habit of brushing their teeth from an early age. In addition, it also teach them how to prevent illness, and how to cooperate with the doctor for various examinations when they are sick.
Matching professional attire with fashion and fun - This 35-piece nurse role play toy set comes with clothe and hat, allowing children to imitate doctors or nurses to give injections to patients, adding a sense of fun and substitution.
Illuminated Imitation Medical Tools - The pulser, thermometer, otoscope, flashlight and other products included in this toy all contain lighting effects, making it more realistic for children to play. The softness of the stethoscope is very good, it is not easy to be damaged, and it also has the function of sound and flash.
Durable Materials - Take this toy to parties, all parts are washable to keep the kit clean and sterile. This kit helps build parent-child bonding and basic motor skills more imaginative than a car or a baby doll. Plus, this toy is absolutely BPA free, keeping your kids safe. The realistic kit does not contain any sharp objects.
Perfect Gift for Your Kids - This pediatric doctor kit is recommended for kids ages 3 and up. Perfect for birthday parties, pretend play game, school classrooms, holiday toy gifts, Christmas gifts and more.
Melissa & Doug Super Smile Dentist Kit With Pretend Play Set of Teeth And Dental...
25-piece dentist play set with realistic pretend play dental care essentials to give cleanings, treat cavities, and fit retainers and braces on an over-sized set of pretend teeth
Includes set of pretend teeth, dry-erase marker, examination tools, toothbrush, toothpaste tube, dental rinse bottle and cup, 2 gauze pads, 3 tooth polish cups, top and bottom retainers and braces, mask, reusable ID tag on a lanyard, double-sided reusable activity card
Use dry-erase marker to mark "decay" then clean with vibrating tool with interchangeable polishing and drill heads or toothbrush; back 4 teeth wiggle and lift to practice pretend extractions
A fun and engaging way to teach good dental health practices, and to ease kids' fears or feelings of stress associated with a visit to the dentist
Makes a great gift for preschoolers, ages 3 to 6, for hands-on, screen-free play
Melissa & Doug Get Well Doctor's Kit Play Set – 25 Toy Pieces
25-piece doctor's kit play set with realistic pretend play patient care essentials to examine and treat patients
Includes play stethoscope, blood pressure cuff, hearing tester, syringe, scissors, tweezers, rolling forehead thermometer, reflex hammer, otoscope, eye cover, tongue depressors, bottles, ID badge, activity cards, and more
Pieces store in handy tote for easy cleanup and so aspiring young doctors can make house calls; styles and colors may vary
A fun and engaging way to ease any feelings of stress associated with a visit to the doctor and to encourage imaginative, nurturing, and empathetic play
Great gift for preschoolers, ages 3 to 6, for hands-on, screen-free play
GOODCHOICE Doctor Kits for Kids, 18 Pcs Toddler Doctor Playset,Toys for 3 Year Old Boys...
INSPIRE IMAGINATION & ENCOURAGE COMMUNICATION: The doctor kit for kids is a set which includes toy medical tools that help children to play pretend doctor game. When kids play pretend doctor game they play different roles such as a doctor, a nurse, a patient or maybe a veterinarian and envision different situations, scenes, and circumstances that improve their imagination, this is a great exercise for practicing social skills and language development
CUTE WOODEN TOYS STURDY & SAFE: This doctor's playset is very cute, the bright colors are perfect for boys and girls to enjoy. The wooden pieces are made of high quality wood, smooth and durable even tossed and thrown around! BPA free, stained with non-toxic water-based paint, fully tested to the ASTM meets the US toy standard
18 PIECES DOCTOR KITS: This colorful kids doctor playset has everything your kids need for a pretend doctor kit. It comes with 18 pieces of medical tools including a stethoscope, a syringe, a thermometer, dental equipment, a medicine bottle and many more. When kids become familiar with different doctor's tools it can help them to understand how a doctor helps keep them healthy and diminishes their fears about doctor's visits
EASY TO STORAGE & CARRY: All the 18pcs kids doctor playset can be stored into the doctor kit bag, so your little boy can walk around with this. Playing with a doctor kit helps children be more confident about their visits to doctors. This pretend game helps kids better understand how doctors help keep them healthy. It also promotes to diminish their fears and to give them a sense of control with their own doctor kit
IDEAL GIFTS & PRESENTS for TODDLERS: Doctor kit for kids has a lot of benefits and it will be an amazing gift for your kids because they will not only spend a lot of fun hours with these doctor's toys but improve different skills that will help them in future life. The doctor pretend game helps to develop cognitive skills. When your kids play an imaginative game they usually use different cognitive skills like reflection, problem-solving or memory recall
MCFANCE Toy Doctor Kits 48Pcs Pretend Play Doctor Kit Toys Stethoscope Medical Kit...
【Suitable for developing basic motor skills 】Help your child reduce their anxiety of a doctor's appointment with this extensive 48 pieces kit. Let them develop their nurturing qualities while learning something about the responsibilities and equipment of a doctor every day.
【With durable plastic, the kit is bound to last for years. 】If taken to parties, all the pieces can be washed afterward to keep the kit clean and germ-free. Helping the parent-child bond and basic motor skills, the kit is a choice for preschoolers who want something more imaginative than a simple car or baby doll.
【Includes a working stethoscope 】Comes with a stethoscope that real working, soft silicone earplugs suitable for children's ears. Let your child immerse themselves completely in their imagination with this dress-up set.
【Non-toxic toys rather ensure the safety of the child】Qualifies the US Toy Standards successfully. Being absolutely BPA free, it assures the safety of your children. The realistic kit does not contain any sharp objects and comes with an added benefit of light effects.
【The top kids' doctor kits that will surely prove to be a great gifting option.】If you are looking for the perfect gift for a child, go for this. With an elaborate set of 48 medical tools and gadgets, this fun doctor play set is educational to young children.
ORIAN Princess Castle Playhouse Tent for Girls with LED Star Lights – Indoor & Outdoor...
HIGH QUALITY, DURABLE DESIGN – Made from ultra-thick 230 Polyester Taffeta, this princess tent for kids with lights can withstand all the wear and tear little girls put it through. This material is compatible for both indoor playhouse and kids outdoor playhouse, and will last for years of fun and enjoyment!
#1 IN CHILD SAFETY – ASTM & FCC CERTIFIED Keeping your kids safe is our first and foremost priority at ORIAN. That is why we designed our kids playhouse tent by the strike standards of the American Society for Testing and Materials, which helps to ensure that only quality, raw materials are used. Rest easy knowing your kids are protected from harmful chemicals and dangerous designs aspects with our princess castle play tent.
BONUS LED STAR LIGHTS – Included with each princess play tent are an FCC certified 4.5M string of beautiful LED star lights (3 AA batteries not included). These glimmering and shining stars help to create even more of a healthy and dreamy environment and make the Perfect Princess Tent for Girls!
EASY TO CLEAN AND MAINTAIN – When your little kids are done playing, you can easily clean the tent. It is made of hard-wearing materials that allow you to simply apply safe cleaning solutions and wipe the playhouse clean!
1 YEAR HASSLE-FREE WARRANTY – On top of the 30-day money back guarantee we provide you, we also offer you a complete 1-year warranty! If for some reason you are not satisfied with your purchase just let us at ORIAN know! We will provide a prompt and helpful solution, offering you a full refund or a new Orian Princess Castle Playhouse Tent!