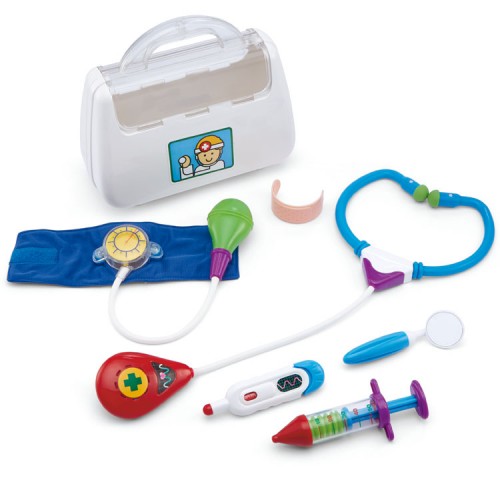 item number w-ip-g02508
Little Doctor 7 pc Kit
Lowest Price
Ships FREE with $25+ order
Gift wrap is available
Satisfaction guaranteed
Easy returns
Buying Options
Estimated delivery
1 to 3 business days
Expedited delivery available.
Kidoozie Little Doctor Kit comes with 7 quality doctor play pieces to open a doctor office for the friends or siblings, or animal hospital for your stuffed animals.
Develops skills: Pretend Play, Imagination, Manipulative Skills
Awards: Oppenheim Toy Portfolio - Gold Seal
Let's play doctor! We have all the medical tools a doctor needs to treat his patients in this cute doctor's case by Kidoozie. Little Doctor 7 pc Kit comes with 7 quality doctor play pieces to open a doctor office for the friends or siblings, or animal hospital for your stuffed animals. This quality doctor pretend set from Educational Toys Planet contains toy thermometer to check if your patients are feverish, bandaid for scratches, toy stethoscope, syringe for emergency or routine shots, auriscope, blood pressure gauge. All these toy doctor's instruments neatly fit into an enclosed carrying case for storage and portability. Our award-winning Little Doctor 7 pc Kit will sparkle your children's imagination and keep them busy playing pretend doctor for hours.
Customers Also Bought
Product Details
| | |
| --- | --- |
| SKU | w-ip-g02508 |
| Manufacturer Recommended Age | 2 years |
| Brand | Kidoozie |
| Quantity Available in Stock | 18 |
| Manufacturer Part Number | g02508 |
| UPC | 20373025080 |
| Category | Doctor Toys |
Attmu 7 Pcs Doctor Kit for Kids Pretend Play Educational Dentist Medical Kit Toys for Kids...
Safe Kids Doctor Kit: Our doctor kit for kids meets ASTM safety requirements! Each toddler toy is made of good quality material, odor-free and without sharp edges, making it easy for your child to grip while keeping them safe. Our doctor playset for kids include 7 doctor toys to help your baby learn the duties of a doctor and for doctor/patient role play.
Interesting Pretend Play: When kids engage in doctor/patient role play with this dentist toys for kids, they can also comprehend the uses of different medical tools and know different body parts. The children learn about the duties of a doctor by using the play doctor set for kids. This will help relieve the children's anxiety and ease their fear of going to the doctor.
Realistic Injection Experience: The syringe in our toddler doctor kit is carefully designed and made of high quality wood. The dentist toy syringe has a built-in spring that can be pushed like a real syringe to provide the most realistic doctor play experience. The rounded edges will not cause any harm to your baby.
Educational Toy Doctor Kit: The doctor dress up & pretend play for girls and boys can not only stimulate kids' imagination and creativity, but also cultivate their compassion and foster their social skills. The medical learning & education toys are a good helper for learning and growth,develop their self-learning ability,also teamwork awareness. Through simple role-playing, children can learn a lot about medicine and make them braver the next time they face a doctor!
Doctor Toys Gifts: The kids doctor kit that will surely be a surprise gifts for 3 4 5 6 7 8 years old boys and girls. It perfect suitable for Party, Pretend Play, Role Play, School Classroom, Holiday Toy Gifts, Christmas Gifts and More! The 3 year old boy toys are also great learning & education toys that create fun playtime for your kids and their friends.
Flyingseeds Doctor Kit for Kids, 24 Pcs Pretend Play Doctor Dentist Toys with Electronic...
【Learn from Role-Playing Games】:Through the doctors/patients role-playing at home, children can easily understand and accept the daily medical scenes and procedures, which can reduce their fears of hospitals and doctors.
【Realistic Sound & Light Effects】:The electronic stethoscope can produce lights and sounds like the heartbeat "Boom! Boom!" The ear hammer and mouth mirror can produce light just like the real medical equipments. Batteries are included and safely locked inside them.
【Easy for Storage & Travel】:The set comes with a storage case and a medical bag. All pieces could be taken into the case. Kids could take the medical bag for convinience when they go out for a trip.
【High-Quality Material】:Our Doctor Kit Set is made of environmentally friendly BPA-free plastic, with no sharp edges or corners. It's safe and sturdy, recommended for girls/boys ages 3-7 years old. Also, it is an excellent toy for parents to interact with kids.
【100% Satisfaction Guarantee】:Add this doctor kit set to round out the pretend-play experience and give kids another engaging option for screen-free fun. Any dissatisfaction please contact us, we will make it right!
Pidoko Kids Doctor Kit for Kids - Wooden Pretend Play Set (11 Pcs) - Toys for Toddlers...
A classic and adorable toy set in introducing the world of medicine to children, while letting them experience being a doctor, nurse or patient!
The doctors kit playset includes a syringe, stethoscope, medical bottle, eye chart, prescription, medicine tablets, ointment gel, thermometer, all in a handy carrying case.
Encourages imaginative role play and story telling, while also promoting communication, reasoning and intellectual thinking.
Inspire your little one to identify with a happy and a healthy life style, while also letting them discover their comfort level with doctors instruments
Pidoko Kids toys are made up of 100% natural wood and comply with all international toy safety standards. Made from renewable resources with non-toxic paints for safe play.
FunsLane Dentist Toy Doctor Kit for Kids, 20 Pcs Pretend Play Dentist Tools Medical Set...
MEDICAL DOCTOR KIT: The doctor pretend play kit includes 20 pcs blue tools: Screw filler, Teeth hook, Oral Mirror, Reflex Hammer, Flashlight, etc, and a case.
STURDY CASE: All the doctor tools come in a sturdy easy storage carrying case. The size of the kit is suitable for little hands. Light and convenient,easy to open and carry. No sharp edges, safe for little kids.
EXPERIENCE TIME: The doctor play set bring your children a new experience of being doctor. They will learn all about the tools a dentist uses to help keep teeth healthy.
FUN PRETEND PLAY TOY: Children will have fun. Perfect for pretend play, role play, party, school classroom. Create Hours of Fun Playtime.
HIGH QUALITY: This toy set is made of high quality environmental plastic, no need to worry about the safety. Great for Birthdays and Holiday Gift.
NATIONAL GEOGRAPHIC Dual LED Student Microscope – 50+ pc Science Kit Includes Set of 10...
TWO MICROSCOPES IN ONE! Use the lower LED lights to view biological specimens on slides or switch over to the upper lights to examine 3D objects in intricate detail. The perfect STEM activity for boys and girls.
OVER 50 ACCESSORIES INCLUDED – Explore a curated set of 10 prepared slides with a range of biological specimens, then create your own with the included blank slides and covers, tweezers, and an eye-dropper. This complete kit also includes a Petri dish for plant labs, a mini geode, and more!
POWERFUL LEARNING TOOL – This microscope features two sets of optical glass lenses providing 20x and 50x magnification, and is easy to operate making learning fun and accessible for young scientists. Kids science experiments have never been so fun!
BRINE SHRIMP EXPERIMENT INCLUDED – Track the life cycle of brine shrimp with the complete included experiment! Includes hatchery station, shrimp eggs, petri dish, and lab manual. Includes a detailed, full-color STEM learning guide.
HIGH-QUALITY EDUCATIONAL TOYS - National Geographic is proud to make the highest quality hands-on science toys, and all our products are backed by exceptional service.
Doctor Kit for Kids, 35 PCS Pretend Play Educational Doctor Toys with Carrying Case &...
【35 PIECES DOCTOR KIT 】: Our doctor kit for kids has an assortment of 35 medical tools & gadgets for children to help children learn about the human body and doctor's daily, reduce the fear of the hospital.It will spark your child's imagination!
【REALISTIC SOUND AND LIGHT EFFECTS】: Bring playtime to life with entertaining sounds and light! Some of doctor tools glow when they are working. And the stethoscope produces an authentic real-life heartbeat and coughing sound.
【CHILD-FRIENDLY DESIGN】:Unlike the typical shoddy toys being made today,our doctor play set are built with quality, durability and safety in mind. The sturdy plastic instruments in this play doctor kit are easy to clean for the utmost hygiene.
【DURABLE CARRYING CASE】:Snap-lock latches keep the case securely closed, and are easy for children to handle. The doctor playset've got the kids covered with easy storage! It can cultivate children's awareness of storing toys.
【IDEAL GIFT FOR KIDS】: The toy doctor kit is a great gift for any occasion, such as party, pretend game, role play, class reward, holiday toy gift, Christmas gift and birthday gift. Help kids realize their dreams of becoming doctors, nurses and dentists.
7 pcs Tactical Black Diagnostic Reflex Percussion Kit - Taylor Hammer, Body Measuring...
7 PIECE DIAGNOSTIC PERCUSSION REFLEX SET: Asatechmed Set of 7 pcs Diagnostic Kit, Physical Therapy, Exam Set - Reflex Percussion Kit with Black Taylor Percussion Hammer + Retractable Body Measuring Tape + Black Tuning Fork Set + Black Bandage Scissors 5.5" + Black Pupil Guage Penlight + Snellen Eye Chart w/ Case
FOR STUDENTS + PROFESSIONALS: Suitable for students and medical professionals, this medical diagnostic set is perfect for practicing and completing neurological assessments as well as other physical reflex tests. We believe that accurate assessments are important, which is why we designed this Patient Assessment Kit for Medical, Nursing, EMT, PA CNA and RNA students so that they can be familiar with all methods of diagnosis.
HIGH QUALITY STAINLESS STEEL TOOLS FOR SUCCESS: Let us at AsaTechmed help you save for your future by providing you with this affordable but quality kit. This reflex percussion set will be a great asset in your path to become a nurse, doctor or any other medical professional. We do not compromise value and quality with the price, our instruments are made of durable stainless steel materials with coated black finish for a sleek tactical style.
CONVENIENT ZIP CARRY POUCH INCLUDED: All of the instruments shown are nicely organized in a complimentary zipper pouch so that your diagnostic tools can stay protected and can be easily transported.
100% SATISFACTION GUARANTEED: Our kit is assembled and inspected for the best quality in the USA. We hope to support your path to becoming a great medical professional with this affordable patient assessment kit with great value.
GOOSH Doctor Kits Toys 35 PCs Pretend Play Doctor Nurse for Toddlers, Medical Kit with...
Learning while playing - These doctor role play sets will teach your baby how to take care of their oral health, develop a good habit of brushing their teeth from an early age. In addition, it also teach them how to prevent illness, and how to cooperate with the doctor for various examinations when they are sick.
Matching professional attire with fashion and fun - This 35-piece nurse role play toy set comes with clothe and hat, allowing children to imitate doctors or nurses to give injections to patients, adding a sense of fun and substitution.
Illuminated Imitation Medical Tools - The pulser, thermometer, otoscope, flashlight and other products included in this toy all contain lighting effects, making it more realistic for children to play. The softness of the stethoscope is very good, it is not easy to be damaged, and it also has the function of sound and flash.
Durable Materials - Take this toy to parties, all parts are washable to keep the kit clean and sterile. This kit helps build parent-child bonding and basic motor skills more imaginative than a car or a baby doll. Plus, this toy is absolutely BPA free, keeping your kids safe. The realistic kit does not contain any sharp objects.
Perfect Gift for Your Kids - This pediatric doctor kit is recommended for kids ages 3 and up. Perfect for birthday parties, pretend play game, school classrooms, holiday toy gifts, Christmas gifts and more.
Battat – Deluxe Doctor Kit – Pretend Play Doctor Set for Kids 3 Years + (11-Pcs), Blue
DELUXE DOCTOR SET: Take good care of your teddy bear with this toy doctor kit.
11 PIECES: 1 doctor case, 1 toy stethoscope, 1 thermometer, 1 safe syringe, 1 just-as-safe-scissors, and many more.
CARRY CASE: Just what busy little MDs need when they take house calls. Everything fits inside at the end of the day.
PRETEND PLAY: Learn more about the human body, improve problem-solving, as well as emotional and social skills.
WORRY-FREE: This doctor play set for toddlers is BPA free and 100% safe. Recycled and recyclable packaging.
AGE LIMIT: The Wee MD doctor set for kids is recommended for toddlers 18 months and up.
JOYIN 31Pcs Doctor Kit for Kids, Pretend Play Toys, Educational Dentist Medical Kit with...
31 Pieces Pretend-n-Play Medical Kit Set Includes Stethoscope, Blood Pressure Cuff, Forceps, Bandage, Eyeglasses, ID Tag, Scalpel, Tweezer, Syringe, Scissors, Reflex Hammer, Bedpan, Ear Scope, Oral Mirror, Doctor coat, Doctor Clipboard Paper and Print, Pill Bottles, Pulse Machine, Toothbrush, Flashlight, Thermometer, Otoscope, Denture and Case.
Superior Quality. Variety of Doctors' Tools. Super Durable. Batteries are included.
Super Value Toy Pack for Doctor Dress Up Set. Perfect for Party, Pretend Play, Role Play, School Classroom, Holiday Toy Gifts, Christmas Gifts and More!!! Create Hours of Fun Playtime.
Medical Doctor Kit Set in a Sturdy Gift Case Measures 8 ½" L X 6" W X 6" H for Easy Storage.