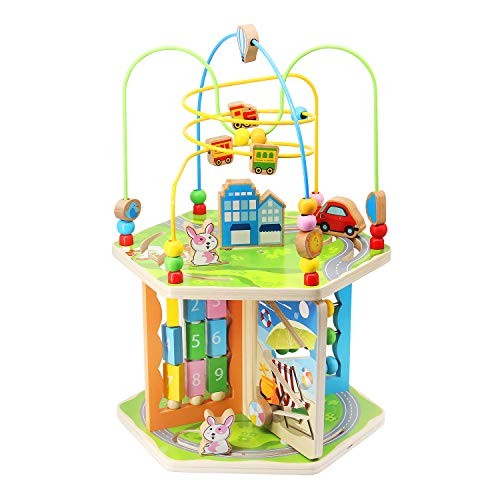 Wooden Play Center 7 in 1 with Bead Maze for Babies and Toddlers Learning
Ships FREE with $25+ order
Gift wrap is available
Satisfaction guaranteed
Easy returns
Buying Options
Estimated delivery
1 to 3 business days
Expedited delivery available.
Natural and Safe Material: Cut from solid wood sanded smooth and finished with safe water-based paints; Non-toxic finishes and child safe materials Educational Learning Toy: Encourage your child to recognize shapes colors words characters and develop imagination hand-eye coordination and problem solving skills Manufactured by ZONXIE. Nice Toy Gift: Best choice as a kids birthday gift which is also a good parent-child game that can promote family harmony Perfect Size: The height is suitable for sitting kids to play; Don't need to assembly there will be no fragments 6 Sides Activity Cube: A variety of game-plays make children more interested in this. Calculation beads digital and picture cognition and so on are better to strengthen child's brain development
Customers Also Bought
Product Details
| | |
| --- | --- |
| SKU | etp-ex-B07G28LTNV |
| Quantity Available in Stock | 24 |
| Dimensions of Package | 16.33x10.23x11.61 |
| Manufacturer Part Number | KT-RaoZhu |
| Amazon ASIN Code | B07G28LTNV |
| Packaged Product Weight | 2.4 |
| Category | Bead Mazes |
Best Selling Toys Related to Wooden Play Center
Battat – Wooden Activity Cube – Farm-Themed Activity Center – Educational Toys – Wooden Toys For Toddlers And Kids – 1 Year + – Farm-Themed Wooden Activity Center
WOODEN ACTIVITY CENTER: Our Battat farm-themed activity cube for 1-year-old children and older is a true childhood classic. Farm animals are ready to play peek-a-boo, while the loopy routes, zigzag paths, and beads are begging for tiny hands to play.
TIME FOR FUN: This wooden cube toy has so much to discover. Drive the tractor around the farm, move the colorful beads through the bead maze, spin the spinners, or mix and match the animal puzzles. This learning toy cube offers hours of fun!
SAFETY FIRST: At Battat, keeping your little one safe is our top priority. All of our learning activities and toys are crafted from sturdy, kid-friendly materials to keep your little ones safe as they play and learn.
LEARNING IS FUN: Little brains develop best when they are engaged in play. Our toys encourage imaginative and pretend play to help improve concentration and memory all while focusing on the important developmental skills your child needs to master.
BATTAT TOYS: Childhood is a time to be bold and curious, and Battat aims to be there every step of the way. We're a family-owned business that offers a full range of preschool toys that are as playful as they are educational.
Sale
Country Critters Wooden Activity Play Cube by Hape | Wooden Learning Puzzle Toy for Toddlers, 5-Sided Activity Center with Animal Friends, Shapes, Mazes, Wooden Balls, Shape Sorter Blocks and More, 13.78 x 13.78 x 19.69 inches
HUB OF ACTIVITY: This sort and discover activity play cube consists of five sides. Watch them enjoy the beaded adventure land, a shape sorter, a stand in a queue, a turnplate and tap to the bottom activity
COUNTRYSIDE INSPIRED: This activity cube is an animal inspired play cube includes ten pieces featuring wooden balls, shapes, wooden pounder, and more
ENCOURAGE MOTOR SKILL DEVELOPMENT: This learning puzzle toy for toddlers assists in motor skills, logic skills and perseverance
DURABILITY: Made of sturdy wood, child safe materials and water-based paint
AWARD-WINNING: This development toy is an award-winning shape sorter, recommended for ages 12 months to 6 years
Sale
Manhattan Toy Playground Adventure Wooden Toddler Activity Center with Gliders, Abacus Track, Spinners, Spring Toys and Bead Runs
HANDS-ON LEARNING FUN: The Playground Adventure wooden toddler toy is packed full of motor skill activities and unparalleled visual appeal. Your little one won't even know they're practicing their fine and gross motor skills as they investigate all of the features offered by this playground-themed activity center.
BOUNTIFUL ACTIVITY CENTER FEATURES: With 20 gliders on seven different tracks, an abacus track, five beads runs, two spinners, a springy bear riding a dinosaur and more, kids will be mesmerized by this classic wooden toddler activity and motor skill developmental toy. When toddlers are engaged and happy, so are their caregivers.
THE DETAILS MATTER: Colorful, highly detailed graphics abound on this activity stand, with a bright outdoor palette to instantly capture and hold your little one's attention. While exploring all of the activity features, the Playground Adventure will send imaginations into overdrive.
WOODEN TOY FOR TODDLERS: This wooden activity toy for toddlers measures 20.5" tall and 18" wide, with a water-based, non-toxic finish, and is a suitable toy for 1 year and up - a perfect first birthday gift, nursery toy, or children's room décor piece.
Clean Playground Adventure as needed with baby-safe cleaners or wipes (not included); adult assembly required - hardware included. Assembly time under 30 minutes.
TOOKYLAND 5 in 1 Activity Center,Wooden Large Activity Play Cube, Wooden Learning Puzzle Toy for Toddlers, with Animal Friends, Shapes, Mazes, Shape Sorter
ACTIVITY CENTER: This sort and discover activity play cube consists of five sides. Watch them enjoy the beaded adventure land, a shape sorter, a stand in a queue, a turnplate and tap to the bottom activity
ENCOURAGE MOTOR SKILL DEVELOPMENT: This learning puzzle toy for toddlers assists in motor skills, logic skills and perseverance
TOY FEATURES: Features different animal friends and multiples sides of play
STORY: Busy kids will love the different activities that encourage imagination and storytelling
SAFE & DURABLE MATRRIAL:Well made of 100% natural pine wood, , non-toxic paints with bright color, round edges with no sharpness, premium craftsmanship, more sturdy than other activity cube sets. Fully tested to the highest ASTM and CPSIA toy safety standards, this wooden activity cubes are parents' premium choice for educational toys for toddlers 2-3.
Gemileo Wooden Activity Cube Center Toys with Bead Maze Clocks Shape Sorter Abacus 6 in 1 Learning Educational Toys Birthday Gifts for Toddlers Kids Birthday Gifts for Girls Boys
6 IN 1 TOY SET: This activity cube toy includes 5 games, a bead maze above for fining baby hand movements, a teaching clock for guiding todddler to learn the time, 4 animal matching maze for recognizing animal and exercise visual tracking ability, 1-9 number board for learn numbers, colorful abacus shape blocks for promoting cognition and observation, funny learning toy
GREAT ACTIVITY CUBE WITH WHEEL: This set activity cube packaged included wheel, armrest and nails, after assembly this wooden toy is a perfect baby toy for kids to push and pull, baby can push it to everywhere, can attract kid's attention, fully exercise babies skill, suitable for friends to play together, improve toddler social skills
UNIQUE STORAGE BOX:Besides a activity game center, it also a storage box, and other kid's small toys can be stored in the middle of the box when the bead maze placed on it, you can also turn the bead and put it in the box to save space. If the baby is tired from playing outdoors, he can sit on the box to rest
EDUCATIONAL GIFTS FOR KIDS: Removeable toddler activity play cube is good choice for birhday christmas gifts for girls boys, Educational, fun, safe and parent-approved, this baby wooden toys will put a big smile on babies cute little face, perfect toy is indispensable for children's growth
SAFETY MONTESSORI TOYS: Bead maze toy is made of 100% natural wood with all edges are smoothed. Covered with water-based paints, approved ASTM and CPSIA test, safe for every child to play, our multifunctional educational toy is larger than the same toy on the market. Providing customer best product and service is Gemileo aim, If you have any question about the product, please feel free to contact us by mail
LAVIEVERT 9-in-1 Wooden Play Cube Activity Center Multifunctional Bead Maze Shape Sorter Educational Toys Game for Toddlers & Kids
Environmentally Safe Material - Lavievert bead maze is designed to scientifically enlighten and develop children's skills. Constructed by solid wood and crafted with advanced technique, no toxic paint included. The detachable lid and bottom side can be used respectively for different games, while the bead maze can be put inside after use.
Multifunctional Toy Set - 9-in-1 game set features bead maze, fishing game, flight chess, colored abacus, color & pattern matching game, clock, number blocks, gearwheel, and creature matching game.
Enlightening & Educational - Bright colors and a variety of geometric figures are conducive to children's sensory stimuli and cerebral development - the bead maze enhances their hand-eye coordination, the colored abacus enlightens them with the basics of arithmetic, the gear wheels help to develop their logic, the clock with adjustable hands guides them to form the idea of time, and the creature matching game allows them to learn to think.
Play With Others - This play set is good for encouraging them to learn and guiding them to explore unknown things. Kids may not be aware that they are learning while playing with their little buddies.
Package Includes - Wooden fishing rod × 2 pcs, magnetic wooden fish × 1 pack, colored cube × 3 pcs, fly chess × 1 pack. Suitable for kids of above 36 months.
BABY JOY 6 in 1 Wooden Baby Walker, Toddler Pretend Play Kitchen Playset, Push and Pull Sit-to-Stand Learning Walker Activity Center, Montessori Educational Toy, Push Walker for Boys Girls
6 in 1 Activity Center: This baby learning activity center serves as a baby push walker, pretend play kitchen playset, toy storage box, teaching clock, shape matching game and movable food slider. The multifunctional design meets kids' various needs, offering them different games for fun. There are also cute ice creams, kitchenware and food blocks.
Simulated Kitchen Area: With the unique kitchen area, children are able to experience the fun of acting as a chef. The sink with faucet is designed for enhanced experience. Besides, the stoves controlled by rotary knobs with "click" sounds cook delicious meals. And sweet accessories included bring convenience.
Ergonomic Baby Push Walker: For toddlers, a proper walker can effectively correct their walking posture and prevent O-shaped legs. The handle with the right height is very suitable for children to grip. And the enlarged wheels not only stabilize, but also come with extra non-slip rubber straps that protect the floor and ensure a silent moving.
Premium & Durable Materials: This 6-in-1 kids learning activity center is made of high quality natural beech wood and MDF. The multi-purpose baby walker is designed in durable and BPA-free material with smooth surface. Safe rounded edges protect your child from accidental bruises, and the burr-free surface is very easy to clean as well as protects your baby's delicate skin.
Great Gift for Kids: This walker can work on your baby's motor skills, balance and fine motor skills. Of course, parents can also sit down and enjoy the parent-child interaction time with their children. The pretend play kitchen has a lovely appearance. There is no doubt that it will be the most popular gift among kids. Suitable for babies aged 1 year +, our products have been certified by ASTM and CPSIA for safety.
Sale
Movie Theatre Snack Bar Wooden Playset - Pretend Concession Stand Fun- Full Set Includes Popcorn Machine, Hot Dogs, Candy Bars, Sodas, Cash Register, Credit Card & More- Kids Play Food Activity Center
Fuel your child's imagination with our captivating Movie Theatre Snack Bar Wooden Playset! Serve up endless hours of fun, popping popcorn, grilling hot dogs, and satisfying sweet cravings with realistic play food pieces.
Watch as your little ones become the ultimate snack bar entrepreneurs, developing social and cognitive skills while engaging in creative role-play scenarios.
Crafted from high-quality, durable wood, our playset guarantees hours of safe and enjoyable playtime. It's designed to withstand enthusiastic little hands and ensure long-lasting entertainment.
Make playtime unforgettable with our vibrant, eye-catching playset that sparks imagination, encourages social interaction, and creates precious memories for your child. Bring the joy of a snack bar adventure home today!
For Ages 3+. Great kids gift for girls or boys. Full set includes: Popcorn machine with scoop & popcorn, small, medium and large popcorn containers, hot dog roller machine, 3 hotdogs with buns, ketchup, mustard, small, medium and large sodas with lids & straws, 3 candy bars, 2 tickets, cash register with credit card, open/closed sign, and apron with nametag
Sale
Baby Playpen & Baby Gate for Toddler and Babies, Foldable Wooden Large Shape & Size Adjustable Playard, Play Fence with Locking Gate Activity Center, Toddler Fence Play Area Indoor by Comfy Cubs
Effortless Installation: Forget the hassle of spending hours putting parts together. The Comfy Cubs Baby Play Pen arrives fully assembled, saving you time and effort. For those who wish to secure the Baby Gate to a wall, we've also included easy-to-use wall mounting brackets for added stability which will take you less then 10 minutes for the initial set up.
Natural and Safe Materials: Our play pen is made from natural pine wood with a smooth touch. We've prioritized your child's safety, using no paints, varnishes, or chemicals, ensuring an environment free of toxins and harmful substances.
Baby Gate Extends up to 228 inches : Boasting a remarkable length, this product can extend up to 228 inches when fully opened as a gate. This feature ensures versatility and comprehensive safety coverage, perfect for both small and large spaces.
Portable and Easy to Store: Designed with modern homes and busy parents in mind, our play pen is not only adaptable in shape but is also foldable and portable. Whether you need to free up some space or are heading on a trip, storing the playpen is a breeze, ensuring safety for your child wherever you go.
Child-Safe Design with Convenience in Mind: Prioritizing your child's safety, we've incorporated a child-proof lock and latch door for the playpen. Yet, for the parents, accessing the pen is a breeze, as the door can be simply opened with one hand.