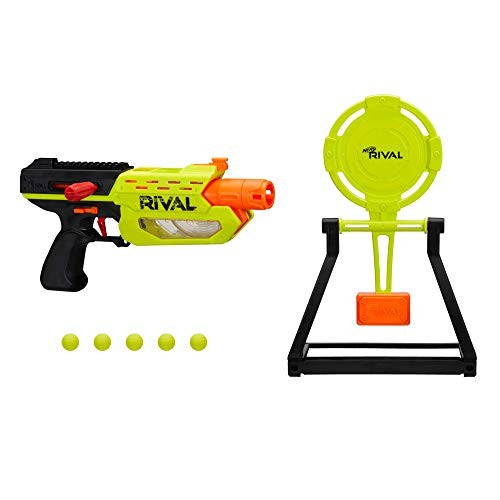 item number etp-ex-B07YR23JDZ
NERF Rival Mercury XIX-500 Edge Series Blaster with Target & 5 Rounds
Lowest Price

40.62

Ships FREE with $25+ order
Gift wrap is available
Satisfaction guaranteed
Easy returns
Buy Now
Estimated delivery
1 to 3 business days
Expedited delivery available.
Customers Also Bought
Product Details
| | |
| --- | --- |
| SKU | etp-ex-B07YR23JDZ |
| Quantity Available in Stock | 39 |
| Dimensions of Package | 12.00785x17.00784x2.51968 |
| Manufacturer Part Number | E3533US20 |
| Amazon ASIN Code | B07YR23JDZ |
| Packaged Product Weight | 2.5 |
| Category | Outdoor Play & Sports |
NERF Rival Curve Shot -- Sideswipe XXI-1200 Blaster -- Fire Rounds to Curve Left, Right,...
SELECT YOUR CURVE: Select your curve mid-battle to fire around objects to give you the ultimate strategic competitive advantage with the Nerf Rival Curve Shot Sideswipe XXI-1200 blaster
ROTATING 360 DEGREE MUZZLE: The muzzle rotates 360 degrees so you can turn it to select your curve and blast rounds left, right, straight, or down to customize your aim for any situation
BOLT-ACTION BLASTER FIRES ROUNDS AT 90 FPS: The Sideswipe XXI-1200 blaster unleashes rounds at 90 feet per second, has an ambidextrous bolt to adjust for right- and left-hand players. Has trigger lock
INCLUDES 12 ROUNDS AND 12-ROUND INTERGRATED SIDE-LOADING MAGAZINE: Comes with 12 Official Nerf Rival rounds. Has an integrated, curved 12-round magazine that loads on the side of the blaster
Nerf Rival Khaos MXVI-4000 Blaster (Red)
N-Strike Elite blasters and Elite darts deliver the ultimate in blaster performance
Mega Series blasters feature Mega Whistler Darts that scream through the air
Defend against a zombie invasion with Zombie Strike blasters
Ignite the night with Fire Vision sports gear that glows when thrown
Raise your game with the Pro-Grip Football and Nerfoop basketball set
Hasbro (Author)
Nerf Rival Prometheus MXVIII-20K
Advanced acceleration system: The Prometheus MXVIII-20k Nerf Rival blaster features an Advanced Acceleration System that fires up to 8 rounds per second*
Rechargeable battery: This fully motorized Nerf Rival toy blaster comes with a rechargeable NiMh battery and a wall charger so there's no need to stock up on batteries
High-capacity hopper: This Nerf Rival Phantom Corps blaster has an easy-loading, high-capacity hopper that holds up to 200 Nerf Rival rounds
Comes with 200 high-impact rounds: The Nerf Prometheus MXVIII-20K blaster comes with 200 Nerf Rival high-impact foam rounds
Fires rounds at a velocity of 100 feet per second: Vanquish opponents as you blast rounds as a velocity of 100 feet per second (30 meters per second).For use with Nerf Rival products only
Includes 1x 9.6volt NiMh rechargeable battery
NERF Rival Kronos XVIII-500, Red (Amazon Exclusive)
Experience the intensity of Nerf rival battles with this spring-action blaster
Fires rounds at a velocity of 90 feet per second (27 meters per second)
This breech-load blaster holds up to 5 rounds
Comes 5 high-impact rounds
Has a trigger lock, tactical rail, and ready indicator
NERF Rival Kronos Outdoor Blaster
Breech-load blaster
Includes 5 high-impact rounds
Spring-action mechanism, trigger lock, and tactical rail
Fires rounds at 90 feet per second (27 meters per second)
Comes with red and blue team flags
Includes blaster, 5 rounds, 2 flags, and instructions
Little Valentine [200 Rounds] Nerf Rival Compatible Ammo Bulk Yellow Foam Bullet Ball...
【Round Size】: Works with Nerf Rival blasters, such as Kronos XVIII-500, Helios XVIII-700, Apollo XV-700,Khaos MXVI-4000,Atlas XVI-1200, Artemis XVII-3000, Nemesis MXVII-10K and Zeus MXV-1200 blasters
【High Quality】: Precision tested, proven performance - Discover a new, premium quality Nerf Rival compatible ammo that has been tested extensively and proven to perform just as well as the name brand
Package Included】: 200 high-impact Little Valentine rounds. Lower price, larger quantity
【Kindly Reminder】: These are 3rd party rounds, but they are accurate at 80+ feet. Performance so precise, you can hardly tell the difference
【NO-RISK】: We'll refund 100% of your purchase price if you don't love it for ANY reason
HeadShot Ammo Foam Balls for Toy Gun - 200 Rounds Refill Pack Compatible with Nerf Rival...
Our 200-round refill pack is compatible with the Nerf Rival Kronos, Prometheus, Apollo, Artemis, and more.
Compatible with the Nerf Rival series, this ammo alternative has a velocity of up to 100 fps and a range of up to 80 ft.
Load up your foam blaster with our colorful Headshot ammo refills, available in red or yellow - your choice!
Discover premium quality ammo for your toy gun with these 7/8" foam balls, perfect for any backyard blaster adventure.
If you're looking to have a ball with family or friends, give these HeadShot ammo refill packs as gifts for rounds and rounds of fun!
Nerf Rival Charger MXX-1200 Motorized Blaster -- 12-Round Capacity, 100 FPS Velocity --...
MOTORIZED NERF RIVAL BLASTING -- Power into Nerf Rival battles with the motorized Charger MXX-1200 blaster -- rev the motor and fire a dozen rounds in a row from this 12-round capacity blaster
INCLUDES 24 ROUNDS -- This fast-firing motorized blaster comes with 24 Nerf Rival rounds -- load 12 rounds into the blaster to take on challengers -- and you have 12 backup rounds for reloading
100 FPS -- Fire rounds at a velocity of 100 feet per second and overwhelm the opposing team with Nerf Rival precision and accuracy from this Team Blue blaster. Batteries required (not included)
The motorized charger mxx-1200 has a 12-Round capacity so you can pound your opponents