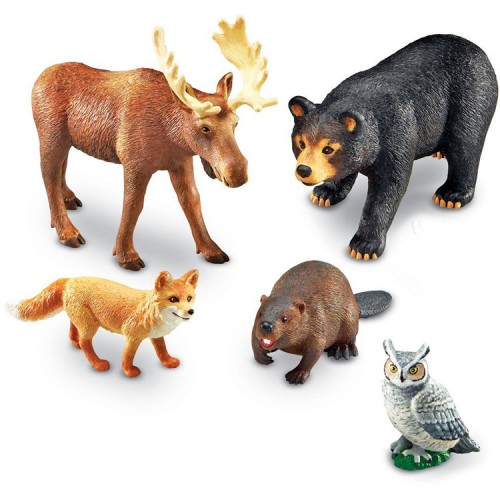 Jumbo Forest Animals 5 pc Wild Animal Figurines Set
Ships FREE with $25+ order
Gift wrap is available
Satisfaction guaranteed
Easy returns
Buying Options
Estimated delivery
1 to 3 business days
Expedited delivery available.
Develops skills: Wild Animals, Pretend Play, Imagination
Awards: American InHouse Design Award
Nowadays children know more about exotic animals than about wild animals that leave in our nearby forests. Learning Resources thoughtfully covers this knowledge gap by creating a beautifully designed set of forest animal figures. Meet 5 animal neighbors from the forest and play pretend zoo or forest at home or in a preschool classroom. Jumbo Forest Animals 5 pc Wild Animal Figurines Set features moose, bear, fox, beaver and owl. The forest animal figures are jumbo-sized, amazingly detailed, and made to last for years of play. This kids animal figurines set comes with Activity Guide that presents fun facts about each animal and provides learning activity ideas. Made of durable non-toxic plastic and finished with kids-safe paint, the jumbo toy animals will inspire curiosity and promote language development for young children. Jumbo Forest Animals 5 pc Wild Animal Figurines Set can be used alone, or combined with other jumbo animals set from Educational Toys Planet. Largest animal figure (moose) measures 8.75 x 7.5 inches.
Customers Also Bought
Product Details
| | |
| --- | --- |
| SKU | w-lr-0787 |
| Manufacturer Recommended Age | 3 years |
| Brand | Learning Resources |
| Quantity Available in Stock | 5 |
| Manufacturer Part Number | LER0787 |
| UPC | 765023807875 |
| Amazon ASIN Code | B001SH1RM4 |
| Category | Animal Figurines |
16PCS Forest Animals Baby Figures, Woodland Creatures Figurines, Miniature...
Natural appearance and color- tan color with white underbelly & tail and grey & white accents, woodland animal sets are high quality, each figure is finely hand painted and sculpted by experts which ensures authenticity.
16pcs forest toy figurines: Bear Cub, Raccoon, Newborn piglet, Rabbit, Red Fox, Badger, Black bear cub, Squirrel, Chipmunk, Skunk, Gray wolf baby, Tree Frog, Hedgehog baby, Deer fawn, Beaver and Owlet.
With true-to-life detail, appealing color, and active poses, these models are designed for teachers, children, collectors, animal lovers and pastry cook everywhere.
40 PCS Woodland Animals Figures Model Trees, 5 Pcs Animal Toy Figurines and...
【Package Contents】 3 x deer, 1 x bear, 1 x squirrel, 6 x model cyan pine trees, 9 x model birches, 5 x model poplars, 2 x model white poplars, 3 x flower trees, 10 x aloe leaves.
【Material】These model trees and flowers are made of plastic material, well workmanship, flexible and durable for using. Not suitable for children under 6 years old, please use them under the guidance of adults to prevent children accidental ingestion.
【DIY】 These model trees are very helpful props for building. They can be used to decorate your model town or garden.
18 Pcs Forest Animals Figurines Woodland Animals Toys Model Trees Kit...
Sufficient quantity: the package contains 10 pieces of woodland animals figurines toys in different types, and 8 pieces of model trees in different sizes, and each figure is finely hand painted and sculpted, which looks delicate and realistic
Size information: the height of the mini buck is approx. 4 inch, the doe is approx. 3 inch, the fawn is 2 inch, the rabbit, squirrel and the bear cub is 1.5 inch, the raccoon is 1.96 inch, the moose is 3.5 inch and the newborn piglet is 0.8 inch; Model trees have 3 sizes, and there is one for 4.4 inches, 2 for 3.4 inches, and 5 for 2 inches
Realistic appearance: the animals figurines toys and model trees with realistic detail, appealing color and active poses look vivid and cute; The appearance and colors are also delicate and vibrant, nice gifts for your friends who like to collect
CiyvoLyeen Woodland Animals Craft Kit Forest Creatures DIY Sewing Felt...
WOODLAND ANIMALS SEWING KIT FOR KIDS - Here is the ultimate set of 12 different woodland plush animals sewing patterns! This kit contains 12 pre-cut felt animal shapes, 32 self-adhesive accessories, 6 colors of embroidery thread, 6 safe plastic sewing needles, 1 safe scissors, 1 batch cotton stuffing, 12 easy to follow instructions. *Minimal adult supervision needed
PERFECT CRAFT KIT FOR BEGINNERS - Even if you've never sewed before, give this a try, you will love sewing these up! As a beginner,a detailed, easy to follow instructions guarantee that you will create a lovely finished product. You can use them to sew your own adorable forest creature wonderland.
GREAT GIFT & ADORABLE DECOR - The sewing kit will be absolutely the perfect gift for girls and boys, CREATIVE AND CUTE!! How will you use your own finished woodland animals? As a toy, baby mobile, garland, ornament, cake topper, or you can add a pin back and wear it as a brooch...whatever you choose!
Woodland Animals Figurines Toys, 10 Piece Realistic Plastic Wild Forest...
Woodland Animal Figures Playset made by high quality durable ABS plastic, hand made durable and non-toxic.
FORSET Animal Playset includes 1 ELK, 1 Buck, 1 Doe, 1 Fawn, 1 Brown Bear, 1 Cub bear, 1 Wolf, 1 Lynx, 1 Raccoon, 1 Greater Kudu. Kids would like to have a party with different varieties of North American Forest Animal Figurines.
Plastic safari forest animals are great for education purposes, creative play, party favors, school projects, baby shower and crafts. It will help to improve children's concentration and outsight, develop and train their imagination and creativity. Parents can tell the children stories about the information of the animals or the happy life of the animal family.
My Talking Plush Forest Animals Toy Set | Includes 4 Talking Soft and...
🐺WHAT'S INCLUDED: Plush Creations brings you a new fantastic set with 4 different Forest Animals with a Tree shaped carrier, "My Forest Friends." Our beautiful plush set comes with 4 plush animals that introduce itself and make realistic live sounds! It includes a Tree shaped carrier that can be used to store the fluffy plush forest animals when your child/ren are done playing. Get your child smiling and animated by hugging, squeezing, and playing with these miniature cute plush animals!
🦉INTERACTIVE: Just squeeze or hug the super-soft plush animal to hear the cutest lifelike animal sounds! Turn playtime into an enjoyable moment; promote fine motor skills, engage them in creative, pretend, and imaginative play! This, "My Forest Friends" set, is perfect for your kids, birthday parties, Christmas, classroom rewards, and carnival prizes! It's an ideal holiday gift, party supply, and/or Christmas present for any plush toy lovers.
🐻SIZE: These friendly, huggable, mini soft and cuddly plush stuffed animals and critters are compact, lightweight, and easy to carry along. Every individual miniature plush toy looks and feels soft and cuddly; as well as the Tree shaped carrier dimensions are 6.5 x 11.5 inches. It's the perfect size for your babies or toddlers to carry indoors while at home or take-along on trips and/or playdates. Your children will love to play with this fun, super cute "Forest Friends" set.
Toymany 12PCS North American Forest Animal Figurines, Realistic Jungle...
✔ FORSET ANIMALS BIG PARTY - TOYMANY 12PCS North American Animal Playset includes 1 Moose, 1 Reindeer, 1 Pronghorn, 1 Black Bear, 1 Brown Bear, 1 Muskox, 1 Wolf, 1 Eagle, 1 Lynx, 1 Raccoon, 1 Squirrel, 1 Skunk. Kids would like to have a party with different varieties of safari animal figurines.
✔ REALISTIC EMULATIONAL DETAILS - This Forest animal figures set was made by hand painted with high realistically detailed appearance, cute face and childish eyes. Their uniquely molded textures and richly painted details make the animals vivid. And all the animal figures stands up very well, they do not fall over. Children would like to spend more time to observe and play with them.
✔ AWESOME BIRTHDAY GIFT - Such cute & different varieties of animal figures are worth to be collected, decorating children's bookcase, desk and room. It's an awesome birthday gift or prize for kids, also it would be a good idea to use them as the cake toppers and make a woodland animal-themed cake for your children. They would love that so much.
SIENON 18Pcs Forest Animals Figures Toys, Baby Woodland Animals Figurines,...
【Realistic Mini Woodland Animal Figures】-18pcs unique non-repeating plastic forest animals with vibrant colors, natural appearance, active poses, each figure is finely hand painted and sculpted by experts which ensures authenticity. The woodland animal toys include Red Fox, Hedgehog, Rabbit, Bear Cub, Baby Gray Wolf, Squirrel, Chipmunk, Skunk, Tree Frog, Beaver, Pig, Raccoon, Badger, Deer, Monkey and Snake.
【Premium Quality & Proper Size】-SIENON Forest Toy Figures set is made of high-quality, durable plastic, BPA-Free resin and coating, with ASTM, CPSIA, EN71, RoHS approval, is durable and washable, very safe to use. You can use them as cake toppers and bath toys. The size of animal figurines measure about 1.1-2.8 inch.
【Multiple Usage】-The Woodland creatures figurines set is true-to-life detail, vivid colors and active poses, these models are designed for teachers, children, collectors, animal lovers and pastry cook. These animal figurines can not only be early education tools but also perfect for forest party decorations, cake topper, cupcake toppers, harvest thanksgiving party decorations, etc. Animal figures also can be put in the pool or bath tub for child to enjoy bathtub time!
Wild Republic Wilderness Nature Tube, Woodland Animals, Forest Animal...
Great Value: Twelve toy figures, White-tailed Deer, Rabbit, Moose, Beaver, Cougar, Gray Wolf, Owl, Bison, Raccoon, Black Bear Fox and Bald Eagle
Size: Approx. size of these highly detailed, hand painted and durable shark figurines are 2" to 4". Package Dimensions: 14" L x 2.5" W x 1.5"H
Perfect for imaginative play, school projects, dioramas, animal themed birthday party, cake decorations, some good old adventure, and educational toys
Skylety 18 Piece Christmas Woodland Animals Figurines Woodland Creatures...
What's included: comes with 18 pieces of wild animals figurines, includes 13 pieces different animals and 5 pieces different trees, such as squirrel, horse, rabbit, elk, wolf, bear, and Christmas trees; The animal figurine is about 1.5 to 5.2 inch in length and 0.79 to 2.76 inch in height
Quality material: miniature creatures figurines are made of quality plastic, durable, non-toxic and thorough safe tested to safeguard your teen's health; It's an awesome birthday present or prize for you, also it would be a good idea to have them as the cake topper and make a forest animal-themed cake
Realistic design: plastic creatures figurines featured with realistic and vivid details, with appealing color and attractive pose, each animal figure is finely hand painted and sculpted