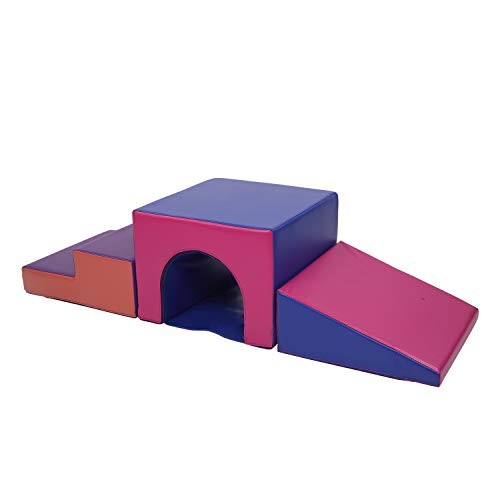 item number etp-ex-B083Z9THCY
Soft Foam Toddler Climbing Toy
List Price
189.98
Lowest Price

179.99

You Save
$9.99 (5%)
Ships FREE with $25+ order
Gift wrap is available
Satisfaction guaranteed
Easy returns
Buy Now
Estimated delivery
1 to 3 business days
Expedited delivery available.
SAFE PLAYING & ENVIRONMENTAL EPE FOAM: JOYMOR kids' indoor climbers & play structures climbing ramp is soft, but firm and safe. Uses superb high density environment friendly EPE foam, not other sellers' traditional EPS foam, JOYMOR foam climbers for toddlers which achieve healthy and durable, not easy distorted.
TOXIC-FREE & WATERPROOF THICKENED PU LEATHER COVER: JOYMOR toddler climbing toys indoor climber thickened PU leather cover is toxic-free waterproof crack-resistant which is healthy and safe for your family and easier to clean. Foam climbers for babies has non-slip bottom keeps structure in place during use. GROSS MOTOR DEVELOPMENT: Indoor climbing for kids ramp climber sliding crawling and physical activity for toddlers kids and children is a great way for toddlers to explore and improve gross motor skills and increase physical activity. JOYMOR foam climbing blocks for toddlers in bright colors that kids will love. Manufactured by JOYMOR. DIMENSIONS: Foam climber measures 60" L x 20" W x 15" H. PLEASE NOTE: Production tolerances +/-5%. Measurements rounded to nearest inch. CAN BE COMBINED: Foam climber features hook & loop tapes which is available for you to combine three parts. Recommended for use by ages 6 months to 2 years old. SAFE PLAYING & ENVIRONMENTAL EPE FOAM: JOYMOR kids' indoor climbers & play structures climbing ramp is soft but firm and safe. Uses superb high density environment friendly EPE foam not other sellers traditional EPS foam JOYMOR foam climbers for toddlers which achieve healthy and durable not easy distorted.
Most toddlers love climbing up things. They are just learning about their environment and how to interact with it, so they climb on everything they can get their hands on. This Soft Foam Toddler Climbing Toy might be just the thing to pique your child's interest. Climbable toys provide great exercise for kids because they require them to work against gravity and really push their muscles to the limit. Soft foam makes this climbing toy much better for kids than hard surfaces like rock or concrete because it will not hurt them if they fall from up high.
What's so great about a Toddler Climbing Toy?
Climbling provides your child with the opportunity to explore the world around them, but also to learn about balance and coordination. These are important capabilities that will impact your child's health and growth for years to come. A climbing toy encourages children to practice their balancing skills by standing up tall on top of the climbing surface. It helps them work on their upper body strength as they pull themselves up onto higher surfaces.
Climbing also works muscles in your child's lower body, particularly in the legs and feet. When they push off against the floor to perform a climb, their leg muscles are doing much of the work. This is great for kids because it helps develop important motor skills that will help them later on in life.
What are some other Benefits?
Climbing is a great way to work out and stay in shape, and doing it on a climbing toy can be an enjoyable experience. It helps your child's mind grow by encouraging them to figure out how to overcome obstacles that they might face down the line. Climbing also encourages children to take risks since they are often high up off the ground where it is easy to get hurt. The more your child takes risks, the more likely they are to be successful later in life.
Customers Also Bought
Product Details
| | |
| --- | --- |
| SKU | etp-ex-B083Z9THCY |
| MSRP | 189.98 |
| Quantity Available in Stock | 19 |
| Manufacturer Part Number | FC01 |
| Amazon ASIN Code | B083Z9THCY |
| Category | Foam Building Blocks |
Best Selling Toddler Climbing Toys
Baoniu Toddler Climbing Toys, 3 in 1 Foldable Wooden Climbing Triangle Toys with...
[Latest Triangle Climbing Toys] Baoniu colorful toddler climbing toys are specially designed for children, imitating the form of steep hills, encouraging babies to climb and explore bravely. The sticks are painted with color-safe paint to inspire young children's interest in play, enhance sensory skills, promote exploration and support imaginative play. The climbing toys is sturdy enough that your child can also play with friends, build friendships and have fun.
[Climbing and sliding] This triangle climbing toys comes with a reversible ramp that can be leaned on and stuck to the climbing tripod for added fun and variety of play. One side of the ramp is smooth and polished and can be used as a slide, while the other side is fitted with coloured wooden blocks for climbing. It can be inclined to climb and slide as required, offering a variety of play options for children to choose freely. Helps children gain confidence, stability and strength
[Foldable design and easy assembly] The foldable design of the children's triangle ramp can be easily folded into a compact size and stored in a corner or under the bed for easy storage without taking up too much space. Easy for parents to move to where their child wants to play at any time. In addition, with detailed instructions and all the accessories needed for installation, you can easily assemble or disassemble the triangular climbing ramp in minutes by following the assembly steps.
[SAFETY FIRST] Climbing toys for toddlers is made of 100% natural harmless wood, the surface is sprayed with BPA-free eco-friendly paint, non-toxic and tasteless, exquisite workmanship, all corners and edges of the ladder are polished and polished , smooth and burr-free to prevent children from getting hurt. In addition, it is ASTM CPC certified to maximize the assurance that children can play and grow in a safe environment.
[More Stable Triangular Structure] Our climbing toy adopts reinforced triangular structure combined with H-shaped base to build a double stable structure, high-quality metal screw connection, bearing capacity up to 200 pounds, providing stability and safety for climbing and sliding and balance! Suitable for children from 1-6 years old. If you have any questions about your order or installation, please feel free to contact us. We will always be here to help you!
ECR4Kids SoftZone Climb and Crawl Activity Playset, Lightweight Foam Shapes for Climbing,...
FUN FOAM ACTIVITY PLAY SET: Open-ended play set is designed to let infants and toddlers climb, crawl, and slide on a collection of five foam shapes
MOTOR DEVELOPMENT: Allow little ones to develop important fine and gross motor skills such as lifting, stacking, and carrying as they move and play at home, at daycare, or in the classroom
QUALITY MATERIALS: Constructed with CertiPUR-US Certified foams that are safe for your little ones, covered in a soft vegan leather and features a non-slip base for added stability
CERTIFIED SAFE: Rated GREENGUARD [GOLD] Certified for healthier indoor air, CPSIA lead and phthalate compliant, adheres to CA-117 requirements and meets ASTM F963 Toy Safety Standards
PRODUCT DIMENSIONS: Overall dimensions measure 24″ L × 16″ W × 8″ H; clean with a mild soap-and-water solution or your favorite bleach-free cleaning wipe
FDP SoftScape Playtime and Climb Multipurpose Soft Foam Playset for Infants and Toddlers;...
CRAWL OR STACK — a configurable climber for new crawlers becomes a soft block playset as they grow; designed for infants and toddlers exploring new textures and colors, learning to grasp and play; foldable half moon speed bump becomes a seat perfect for story time
LITTLE IMAGINATIONS — as your crawler grows, watch as they race toy cars and trucks up and down the ramp, the tiny tunnel becomes a half-pipe, the cube a stage for playing with dolls or figurines
IDEAL FOR IN-HOME AND INSTITUTIONAL LEARNING — high-quality, versatile climber incorporates safe indoor active play into any learning environment, from home to classroom, and anywhere in between
GROSS MOTOR DEVELOPMENT — encourages little ones to develop important growth skills, hand-eye coordination and social skills as they play
NON-SLIP BASE — textured non-slip bottom on slide, square and half moon reduces slipping and sliding
SAFE FOR YOUR SPACE — GREENGUARD [GOLD] Certified for low emissions into indoor air and complies with flammibility regulations
Climbing Triangle with Tent - Wooden Climbing Toys for Toddlers & Baby - X-Large Foldable...
✔️ PRACTICAL & PRETTY DESIGN▪️ Extra large & colorful ▪️ Easy to fold & Easy to clean▪️ For children up to 6 years
✔️ MAXIMUM SAFETY ▪️ Strong & sturdy ▪️ Reliable joints lock into position ▪️ Won't collapse under pressure of climbing, pushing or jumping ▪️ Weight capacity of 100 lbs
✔️ EARLY DEVELOPMENT WHILE HAVING FUN▪️ Helps child improve skills in a controlled setting while having fun ▪️ Designed to develop gross motor skills, physical strength, spatial awareness, agility & balance
✔️LAB TESTED ▪️ Meets & exceeds US safety standards with a CPSC CERTIFIED - ASTM CERTIFICATION
✔️ EASY ASSEMBLY ▪️ Super clear step by step instruction booklet included▪️All you need to assemble is included
Simplay3 Young Explorers Indoor/Outdoor Activity Climber with Extra-Wide Slide for...
Free-standing climber and slide for kids and toddlers features two levels of play with crawl-through spaces, climbing wall with easy-grip hand and foot holds, steering wheel and extra wide slide to help develop gross motor skills.
Fits through standard doorways for easy transition from indoors to outdoors.
Durable long-lasting construction is weather and UV resistant, and easy to clean and sanitize, providing play for years to come!
Bright, happy colors and child-friendly rounded edges.
Fast, easy assembly. Made in the USA.
Merax Foldable Triangle Climber, 4-in-1 Kids Hideaway Play Tent with Art Easel, Stool for...
Merax innovative kids toddler climber is a versatile and compact retreat for your little ones that helps develop his/her creative, artistic, physical and social skills with its 4 game options: playhouse tent, climber, table, and easel whiteboard.
Kids Climber Play Set - Beginners rock wall with colorful climbing rock grips allow your kids to climb, and summit to the top to "honk" his success! The safe activity climber promotes physical activity and motor skills development. Sturdy A-frame structure keeps the triangle climber in place.
Spacious Hideaway Tent & Tunnel - The play house tent has plenty of room inside to hide, play games, read a book, and just relax! The inviting canvas front & back door reveals a secret hideout to plan exciting adventure. Durable fabric can be cleaned as needed. Toddlers and preschool age children can also crawl through the tunnel.
Kids Easel, Window & Table Convertible - Open up the board, you get a window on the play tent that lets in light and a nice breeze, while the board can be used as a learning table. Once closing the window, you get an easel where your kid can draw on and sit on the stool. Stimulate artistic creativity with the dry-erase markers. It can be easily wiped clean for continuous use.
Easy Assembly & Foldable - Great 4-in-1 triangle climber activity house to play both indoors and outdoors. Easy to fold and store against a wall, under a bed, or in a closet for not taking up space. All plastic pieces are colorful and fade-resistant. Product Size: 59" x 34.3" x 47.5" 丨Folded Size: 27.2" x 9.5" x 56.7" 丨Product Weight: 33lbs
Avenlur Indoor Playground Jungle Gym Kids, Toddlers Wooden Climber Playset 6-in-1 Slide,...
Indoor Wooden Playground - For toddlers and children, this 6-in-1 is fun for many ages. Gross Motor Skills: Toddler climbing blocks allow little ones to develop important gross motor skills such as lifting, stacking, and carrying as they move and play at home, at daycare, or in the classroom.
Included Activities - Mini Rock Climbing Wall, Swedish Slide, Monkey Bars, Rope Ladder, Wood Ladder & Swing.
Made of High quality varnished wood - this set will last many years to come. Increase Muscle Development - Improves muscle development and coordination. Assists with developmental needs. Climbing, exploring & testing limits. When the child's developmental needs are met they are generally more settled, calm, and happy. Assist the child to develop spatial awareness. Because of the sturdy & low ground design, it empowers little ones to use the rails to pull up with their hands.
Easy Assembly - No professional installation required. Your kids can now enjoy a premium indoor gym experience with our 6-in-one multifunctional indoor jungle gym for toddlers that has monkey bars, a climbing ladder, and a slide to keep them interested. 𝐈𝐝𝐞𝐚𝐥 𝐟𝐨𝐫 𝐒𝐞𝐧𝐬𝐨𝐫𝐲 & 𝐏𝐡𝐲𝐬𝐢𝐜𝐚𝐥 𝐃𝐞𝐯𝐞𝐥𝐨𝐩𝐦𝐞𝐧𝐭: Avenlur's unique indoor slide playset, ages 2 - 6yrs can indulge in various creative play activities that enhance motor skills and build physical strength.
𝐒𝐚𝐟𝐞, 𝐒𝐭𝐮𝐫𝐝𝐲 𝐚𝐧𝐝 𝐑𝐞𝐥𝐢𝐚𝐛𝐥𝐞 𝐄𝐪𝐮𝐢𝐩𝐦𝐞𝐧𝐭: Our kids indoor play equipment is carefully designed for safety. It is made from industrial grade wood that uplifts its quality and makes it sturdy and robust. Parents must supervise children while playing. We Recommend placing a soft rug underneath the playground to cushion if a child falls during play. 𝐑𝐞𝐜𝐫𝐞𝐚𝐭𝐢𝐨𝐧 𝐀𝐧𝐲𝐰𝐡𝐞𝐫𝐞: Our indoor gym converts home space into a healthy and safe recreational facility.
Dripex Pikler Triangle Climber with Ramp, 8 in 1 Foldable Wooden Montessori Climbing...
😊【8 in 1 Funny Modes】 Wooden climbing triangle set, equipped with toddle and slider, can be freely adjusted to any height and shape you want, almost over 8 modes. With maximum load of 260lbs, allowing 2-4 kids play together, suitable for children ages from 6 months to 6 years old. The integrated design of climbing frame is enough for children to play all day.
😊【Climbing & Sliding 2 in 1 Slide】With 47" long, 19.68" wide and 3.93" thick, kids will have a Spacious, Sturdy and Safe support. Smooth board is also included in this Pikler triangle set, which designed with 2 functions. One surface of the board is polished and can be used as a slide, the other one is installed with color stones for climbing. Offer endless possibilities to combine them in different ways.
😊【Ecological Material & Exquisite Workmanship】Made of 100% natural harmless wood, non-toxic and ecological materials, maximum enable kids play and grow up safely. Also thanks to the exquisite craftsmanship, the corner and edges of the ladder are smooth and free of burrs to prevent kids from being injured. In addition, it has passed CPC certification to ensure the safety of kids.
😊【Foldable and Convenient】Easy to fold up to a more compact size to stack to a facilitate storage without taking up too much space, also foldable design structure can be easily for parents to move outdoor or indoor. In addition, coming with detailed instructions and necessary accessories, it is easy to assemble the climbing ladder, finish within 30 minutes.
😊【Gain Courage and Ability】Experience of climbing, sliding, and assembling, can help kids promote gross motor skills, physical coordination, balance ability, and brain development; Bright colors can enhance the baby's color perception ability. And they can also explore paths and tunnels with more friends, and learn to become little adventurers together. The triangle ladder has multiple locking positions for you adjust the tilt level when climbing or sliding.
Triangle Climbing Toys, Foldable Climbing Triangle Ladder Toys with Ramp for Sliding or...
Upgrade Triangle climbing toys - the perfect climbing toys for toddlers. triangle climber Montessori toy set with 3 different items, triangle climber, ramp and climbing arch. It promotes active movement, develops motor skills and creates endless hours of fun. Gives them confidence, stability and strength through super sturdy, safe and durable play.
Environmentally friendly and safe - the safety of our children is our number one priority. All parts of the Baoniu Mountaineering Tripod are made from 100% natural, BPA-free, non-toxic and odourless eco-wood, and all parts are smoothly sanded for a smooth, burr-free finish to ensure your child plays and grows in a safe environment.
Multiple modes of play - Climbing triangle set with available ladders on both sides, one climbing side and one slide, also available with a climbing arch that you can freely adjust to any height and shape you need. With a maximum weight capacity of 130 lbs and an adjustable height ladder that allows 2-3 children to play together, the slide provides your child with a fun and exciting toy that is big enough to play with all day.
Easy to assemble - the Baoniu climbing tripod comes with fully detailed assembly instructions and tools, so you can assemble it in less than 20 minutes using the Allen key (included). Of course, if you have any questions about the installation or the product, you can always contact us and we will solve your problem promptly. You can use a wet towel to clean the climbing triangle
Kids Fitness Station - Baoniu Triangle is the essential exercise station for your child. Use the Baoniu Triangle to keep your little one away from the smartphone screen - while being active and having fun, children don't need phones and tablets. the Triangle is great for young children to learn how to develop balance through play and to discover their physical abilities, which are important for future physical evolution.
4 in 1 Indoor Play Equipment for Kids, Montessori Climbing Triangle + Wooden Arch + Slide...
⭐Great self-directed toddler climbing toy. This toddler playground includes a climbing triangle, wooden arch, 2 in 1 climbing board (toddler slide & ramp ), and climbing net which help the child to develop and improve motor skills. Suitable for children aged 6 months to 7 years.
⭐Convenient configuration. Indoor playground for toddlers is made up of four pieces and you can swap them and come up with new combinations. Each piece is a climber on its own and is easy to assemble and take apart again. The Triangle ladder has 5 locking positions and the climbing arch can be used as a rocker.
⭐The kids climbing set is made out of 100% hardwood, making it perfect for indoor climbing for kids!
⭐Coated in linen oil and beeswax, the toddler/baby climbing set becomes the perfect fit for outside play!
⭐Excellent training device: toddler climbing toys indoor/outdoor has a Montessori climbing structure and Goodevas Toddler Gym helps to develop muscles, balance control, and increase the baby's courage.