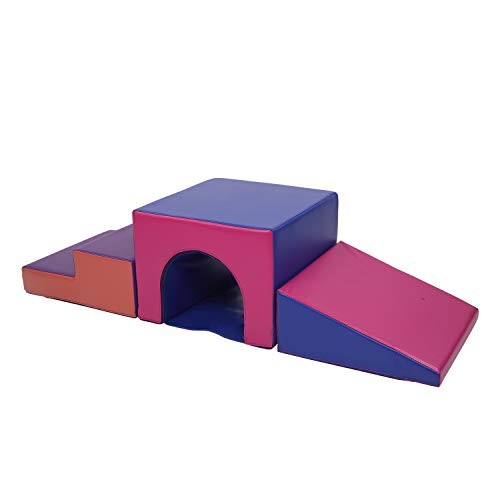 Soft Foam Toddler Climbing Toy
Ships FREE with $25+ order
Gift wrap is available
Satisfaction guaranteed
Easy returns
Buying Options
Estimated delivery
1 to 3 business days
Expedited delivery available.
SAFE PLAYING & ENVIRONMENTAL EPE FOAM: JOYMOR kids' indoor climbers & play structures climbing ramp is soft, but firm and safe. Uses superb high density environment friendly EPE foam, not other sellers' traditional EPS foam, JOYMOR foam climbers for toddlers which achieve healthy and durable, not easy distorted.
TOXIC-FREE & WATERPROOF THICKENED PU LEATHER COVER: JOYMOR toddler climbing toys indoor climber thickened PU leather cover is toxic-free waterproof crack-resistant which is healthy and safe for your family and easier to clean. Foam climbers for babies has non-slip bottom keeps structure in place during use. GROSS MOTOR DEVELOPMENT: Indoor climbing for kids ramp climber sliding crawling and physical activity for toddlers kids and children is a great way for toddlers to explore and improve gross motor skills and increase physical activity. JOYMOR foam climbing blocks for toddlers in bright colors that kids will love. Manufactured by JOYMOR. DIMENSIONS: Foam climber measures 60" L x 20" W x 15" H. PLEASE NOTE: Production tolerances +/-5%. Measurements rounded to nearest inch. CAN BE COMBINED: Foam climber features hook & loop tapes which is available for you to combine three parts. Recommended for use by ages 6 months to 2 years old. SAFE PLAYING & ENVIRONMENTAL EPE FOAM: JOYMOR kids' indoor climbers & play structures climbing ramp is soft but firm and safe. Uses superb high density environment friendly EPE foam not other sellers traditional EPS foam JOYMOR foam climbers for toddlers which achieve healthy and durable not easy distorted. Most toddlers love climbing up things. They are just learning about their environment and how to interact with it, so they climb on everything they can get their hands on. This Soft Foam Toddler Climbing Toy might be just the thing to pique your child's interest. Climbable toys provide great exercise for kids because they require them to work against gravity and really push their muscles to the limit. Soft foam makes this climbing toy much better for kids than hard surfaces like rock or concrete because it will not hurt them if they fall from up high.
What's so great about a Toddler Climbing Toy?
Climbling provides your child with the opportunity to explore the world around them, but also to learn about balance and coordination. These are important capabilities that will impact your child's health and growth for years to come. A climbing toy encourages children to practice their balancing skills by standing up tall on top of the climbing surface. It helps them work on their upper body strength as they pull themselves up onto higher surfaces. Climbing also works muscles in your child's lower body, particularly in the legs and feet. When they push off against the floor to perform a climb, their leg muscles are doing much of the work. This is great for kids because it helps develop important motor skills that will help them later on in life.
What are some other Benefits?
Climbing is a great way to work out and stay in shape, and doing it on a climbing toy can be an enjoyable experience. It helps your child's mind grow by encouraging them to figure out how to overcome obstacles that they might face down the line. Climbing also encourages children to take risks since they are often high up off the ground where it is easy to get hurt. The more your child takes risks, the more likely they are to be successful later in life.
Customers Also Bought
Product Details
| | |
| --- | --- |
| SKU | etp-ex-B083Z9THCY |
| Quantity Available in Stock | 39 |
| Manufacturer Part Number | FC01 |
| Amazon ASIN Code | B083Z9THCY |
| Category | Foam Building Blocks |
Best Selling Toddler Climbing Toys
Amazon Basics Kids Soft Play Corner Climber, 4-Piece
4-piece indoor corner climber for young toddlers and children; ideal for at home, a daycare center, or a preschool
Interlocking hook-and-loop strips secure the pieces together; hook-and-loop bottom helps keep it in place on carpet
Made of safe CertiPUR-US certified PU foam with PU leather fabric
Foldable Climbing Triangle Ladder Toys with Ramp for Sliding or Climbing,...
Upgrade Triangle climbing toys - the perfect climbing toys for toddlers. triangle climber Montessori toy set with 3 different items, triangle climber, ramp and climbing arch. It promotes active movement, develops motor skills and creates endless hours of fun. Gives them confidence, stability and strength through super sturdy, safe and durable play.
Environmentally friendly and safe - the safety of our children is our number one priority. All parts of the Baoniu Mountaineering Tripod are made from 100% natural, BPA-free, non-toxic and odourless eco-wood, and all parts are smoothly sanded for a smooth, burr-free finish to ensure your child plays and grows in a safe environment.
Multiple modes of play - Climbing triangle set with available ladders on both sides, one climbing side and one slide, also available with a climbing arch that you can freely adjust to any height and shape you need. With a maximum weight capacity of 130 lbs and an adjustable height ladder that allows 2-3 children to play together, the slide provides your child with a fun and exciting toy that is big enough to play with all day.
Climb And Crawl Activity Play Set,Climbing Lightweight Foam Shape toy for...
Climb, Crawl, Tumble - Help your little climber develop their gross motor skills through active play. The tumbling blocks have non-slip bottoms and stop them from sliding around.
Perfectly-Sized For Toddlers - Blocks dimensions: cylinder, 16x8"; ramp, 24x16x8"; half-circle, 16x16"; cuboid, 16x8"; rectangle, 16x8". The shapes let you create an unlimited combination of structures.
For Home, Daycare, & Preschool - Babies will have a grand time with this soft play climbing toys for toddlers. The baby climbing toys are soft and dense with tightly sewn seams to prevent tears.
Foldable Wooden Climbing Triangle with Sliding Ramp, 2 in 1 Pikler Triangle...
Stable & Safe with solid wood – The triangle structure is stable and safe. The four legs are equally located on the flat grand, No wobbly. All wood finish and simplicity. The frame and slide made by birch plywood. the dowels made by sturdy hardwood beech with 3cm dia. holds 176-200 LBS, 27.2'' in height, not too big or too small. Perfect developmentally for toddlers 1 -6 years old.
Sensory practice– This Montessori-inspired set Helps child improve skills in a controlled setting while having fun. Designed to develop gross motor skills, physical strength, spatial awareness, agility & balance. it will surely satisfy the aesthetic need of your settings - whether it is a Kindergarten, baby playroom, or Backyard outdoor in a pleasant weather.
2 IN 1 Climbing triangle– This pikler triangle will be an ideal set for little climbers. Set includes a triangle, a 2-in-1 ramp for sliding & climbing. Double the fun when kids playing! It will be a perfect choice in your gift list.
Toddler Indoor Gym Playset, 5-in-1 Wooden Climbing Toys, Triangle Folding...
SAFE: The Toddler Indoor Climbing Set is made of natural wood. With Round-edge Design and non-toxic & odorless paint, will not hurt kids. And also, the set has passed the test of ASTM and CPSIA.
INCLUDING: The Indoor Gym Playset includes 3 parts, wood Foldable Triangle, Rock Climbing & Sliding Ramp and climbing arch.
PLAYG: The Wooden Climbing Playset for baby is designed for 18M+. They can be used in combination or individually. With it, Children can slide, play rock climbing, climb rope ladders. And By controlling the angle of wooden triangle, the height can be adjusted.
ALZN Toddler Climbing Toys, 3 in 1 Triangle Climber with Ramp, Triangle...
【3 Piece Toddler Triangle Climber】Toddler climbing toy set includes two climbing triangles, and one sliding boards (can climb and slide), through different combinations, your child can create more fun and experience different games such as climbing, sliding, and balance beam. This set is designed to increase your baby's hand-foot coordination, physical fitness, and balance.
【High Quality Sturdy and Premium Materials】: Our Toddler climbing toy set use 100% premium natural wood as material with excellent characteristics durability. They are also non-toxic and odorless, more environmentally friendly, safe and durable than plastic materials, creating a safe environment for your children to play in. Each corner is smooth and burr-free to prevent injuries to children. The maximum load is 150 pounds, enough to carry 2-3 children aged 1-4 years.
【Multiple Combinations To Play】Our 3 in 1 wooden toddler climbing toy set can be combined into a variety of different shapes, not only for one child to learn how to walk or climb, but also for more children to play together. Children can build different combinations of shapes through their imagination. Then they can explore the paths and tunnels and learn to become little adventurers together.
Best Choice Products 5-Piece Kids Climb & Crawl Soft Foam Block Activity...
SOFT FOAM: Child-friendly materials provide you with peace of mind and your child with a soft, low-impact surface to toddle, tumble, and play
EASY MAINTENANCE: Lightweight blocks resist stains and wear, thanks to an easy-to-clean vinyl surface that wipes clean with a damp cloth
CERTIFIED & SAFE: Enjoy quality play with low-emission, child-friendly materials in accordance with federal safety standards
ECR4Kids SoftZone Climb and Crawl Activity Play Set, Lightweight Foam...
FUN FOAM ACTIVITY PLAY SET: Open-ended play set is designed to let infants and toddlers climb, crawl, and slide on a collection of five foam shapes
MOTOR DEVELOPMENT: Allow little ones to develop important fine and gross motor skills such as lifting, stacking, and carrying as they move and play at home, at daycare, or in the classroom
QUALITY MATERIALS: Constructed with CertiPUR-US Certified foams that are safe for your little ones, covered in a soft vegan leather and features a non-slip base for added stability
Costzon 4 in 1 Climbing Toy for Toddlers, 3-Sided Montessori Wooden...
【4 in 1 Multiple Configuration】 Costzon multifunctional playgrounds gym set for kids has a climbing ladder, a climbing board and a strong cotton climbing net, and these 3 different sides bring continuous fun to your kids. Play time is an essential part of a child's early years. Once they can walk, and with parents' supervision, they will love climbing all over it and sliding down the slide . It is suitable for kids over 3 year old to enjoy a really funny and meaningful time.
【Play Safer with 100% Natural Materials!】 Our triangle climber playing set uses 100% premium natural wood as materials as the slide boards are made of birch wood while the round rods are made of beech wood, both of which are characterized by great durability. They are also non-toxic and odorless, more environmentally friendly, safe and durable than plastic materials, thus creating a safe environment for your kids when playing.
【Montessori Triangle Climbing Toys】 It is the best climbing toy for cultivating children's independence and autonomous exploration ability! The triangle ladder can be tilted as needed to climb and slide. It allows for natural gross motor development and freedom of movement. Toddlers can practice climbing and find their way over the top and slide down, while 5 or 6 year old can construct different combined shapes or build forts through their imagination. Max load 132Lbs.
Factory Direct Partners 12364-CT SoftScape Playtime and Climb Multipurpose...
CRAWL OR STACK — a configurable climber for new crawlers becomes a soft block playset as they grow; designed for infants and toddlers exploring new textures and colors, learning to grasp and play; foldable half moon speed bump becomes a seat perfect for story time
LITTLE IMAGINATIONS — as your crawler grows, watch as they race toy cars and trucks up and down the ramp, the tiny tunnel becomes a half-pipe, the cube a stage for playing with dolls or figurines
IDEAL FOR IN-HOME AND INSTITUTIONAL LEARNING — high-quality, versatile climber incorporates safe indoor active play into any learning environment, from home to classroom, and anywhere in between