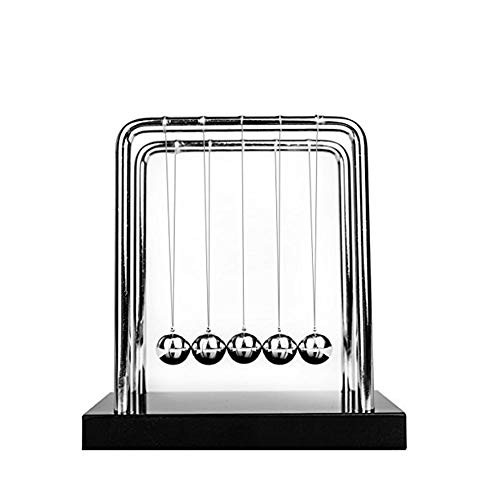 item number etp-ex-B07GVMY5WX
IUU Newtons Cradle Balance Balls Metal Ball Art in Motion Toy with Stainless Steel Frame and Solid Wooden Base Black Medium Size
Lowest Price

17.99

Ships FREE with $25+ order
Gift wrap is available
Satisfaction guaranteed
Easy returns
Buy Now
Estimated delivery
1 to 3 business days
Expedited delivery available.
【Wooden Solid Base】Unlike other Cheap plastic base, this wood one is heavier and looks more elegant, it makes this cradle sturdier, extend your newton's cradle to a longer service life.
MaterialInstead of cheap fishing line which other sellers used our newton cradle use high quality nylon line which is strong enough to not be broken easily. More Durable and RustlessWith steel frame and 5pcs high polished smooth steel balance balls which is more durable and easy to transfer and store more energy when collide. Manufactured by IUU. Physics Education ToolThis Newtons cradle balance ball Toy is a good practice of physics in action demonstrates the principles of kinetic energy and conservation of momentum.Fine argument of Newton's law of motion and the starting point of physics.For every action there is an equal and opposite re-action.Inspired us to better understand the concept of conservation of momentum. Good Toy & Desk DecorClassic desk toy suit for both kids and adults Apply to psychology teaching tools and furnishings.Demonstrates Newton's Laws of Motion excellent for killing boring time and stress release Frequency swing keeps you in a calm state. Its not only a toy but also a good desk decor for office or home perfect gift for a geek! Wooden Solid BaseUnlike other Cheap plastic base this wood one is heavier and looks more elegant it makes this cradle sturdier extend your newtons cradle to a longer service life.
Product Details:
| | |
| --- | --- |
| SKU | etp-ex-B07GVMY5WX |
| Quantity Available in Stock | 18 |
| Manufacturer Part Number | IUU026-US |
| Amazon ASIN Code | B07GVMY5WX |
| Category | Science Kits |
Customers Also Bought: