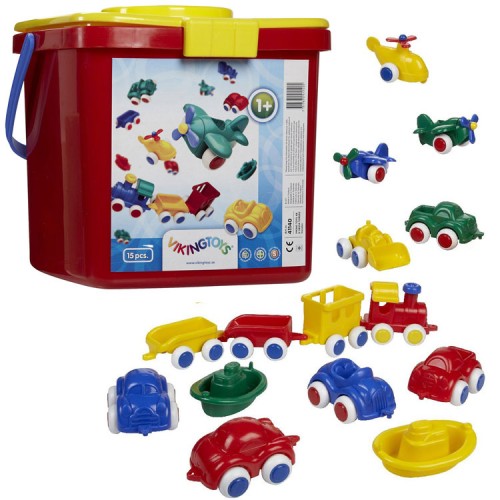 Viking Toys Chubbies 15 pc Bucket First Vehicles Set
Ships FREE with $25+ order
Gift wrap is available
Satisfaction guaranteed
Easy returns
Buying Options
Estimated delivery
1 to 3 business days
Expedited delivery available.
This bestselling Viking Toys' vehicles bucket comes with 15 brightly colored 4 inches toy vehicles, just perfect for toddler's hands.
Develops skills: Pretend Play, Imagination
Viking Toys Chubbies 15 pc Bucket First Vehicles Set is your little boy's dream cars set – it has all cool toy vehicles to start playing endless pretend games. This top selling Viking Toys' vehicles bucket comes with 15 brightly colored vehicles, just perfect for toddler's hands. Each play vehicle from this Chubbies playset is about 4 inches long. Race cars, trains, cars, helicopters, planes, boats – the assortment of toy vehicles in this toddler playset is guaranteed to inspire boys and girls at home or in day care center. Play with these chubby vehicles indoors, bring them to the backyard, or take them to the beach – the easy-to-carry storage bucket with handle comes handy. Please note, the exact toddler play vehicles in this playset bucket can be different from the picture. Educational Toys Planet offers this premium toddler car set by Viking Toys to bring a blast of imaginative play to your children.
Customers Also Bought
Product Details
| | |
| --- | --- |
| SKU | w-ks-41140 |
| Manufacturer Recommended Age | 1 year |
| Brand | Viking Toys |
| Quantity Available in Stock | 40 |
| Manufacturer Part Number | 41140 |
| UPC | 7317670411405 |
| Amazon ASIN Code | B0006OHN7I |
| Category | Toy Cars |
Toysvill Vikings - Action Figures - Hiccup, Astrid, Stoick, Gobber,...
Product packaging: OPP-Bags. Package included: Set of 8 mini figures: Hiccup, Astrid Hofferson, Stoick the Vast, Gobber the Belch, Snotlout Jorgenson, Fishlegs Ingerman, Ruffnut Thorston, Tuffnut Thorston
Figurines height about: 4.33 - 5.32 inches. This is the right size for a child's hand.
Material figure: Environmentally friendly high-quality PVC
LOOYAR Vikings Viking Age Middle Ages Medieval PU Foam Sword Weapon Toy for...
Viking Sword. Design inspired by historic medieval styles. Viking sword was one of the most useful offensive tools for a Viking warrior. Viking swords were typically meant for single-handed use, with the other hand holding a shield. They were more than mere weapons of combat; a sword often indicated wealth and status.
Perfect Costume Sword. Ideal for theatrical productions, Halloween celebrations, costume parties, dress up play and more. The sword would be perfect for Renaissance Festival in your area, some backyard brawling between friends, LARP events or historical reenactments.
Made of high quality PU foam with realistic metal appearance colored paint.
LEGO Creator 3in1 Viking Ship and The Midgard Serpent 31132, Toy Boat and...
Kids can experience thrilling adventures on land and sea with this 3in1 set featuring a toy Viking ship, Viking house and Fenris wolf figure
Kids can choose to build a Viking ship model battling a serpent, a house guarded by a dragon figure with a toy cow or a wolf battling 4 Vikings
The Serpent snake toy has posable head, tail, body, jaw and fins, and the wolf figure has a posable neck, jaw and legs for action packed play
Liontouch Viking Toy Sword & Shield for Kids | Chief Harald's Medieval...
PRETEND PLAY for 3 to 8 years old boys and girls with an imaginative mind and an appetite for adventure. Perfect for any birthday party, as a present for Christmas or for dressing up for Halloween and Carnival
THE SWORD AND SHIELD are made from flexible and soft EVA foam that ensures safe cosplay and with decorations like the Norsemen used to make them. Join the clan in their longship raids to become worthy of going to Valhalla to see Thor and Odin
SHIPS IN A GIFT BOX ready to be given and ensure a nice unboxing experience - also contains a small catalog of the Liontouch universe. Ideal for any Holiday occasion and with accessories such as cape, helmet and axe available
Odowalker 60 Pieces Ancient Soldier Figures Toy Middle Ages Army Infantry...
60 pieces ancient soldier figures toy. 6 different styles of ancient soldiers with black or silver color. (There may be an uneven number of toys in 6 different styles)
Each toy is about the size : 2.5×2 inches (6×5cm) . Please refer to the pictures for more details. They are just like the pictures
Made of high quality solid plastic. Sturdy and durable. No sharp angles, no poison, no smell, no harm to the human body.
Liontouch Viking Shield | Chief Harald's Medieval Foam Toy for...
Ignite the imagination of boys and girls aged 3-8 with a thirst for adventure through the magic of pretend play. The Liontouch Viking Sword makes a perfect gift for birthdays, Christmas, Halloween, or Carnival costumes.
Made from soft and flexible EVA foam, the shield makes for cosplay and imaginative play. Featuring decorative elements inspired by Norse craftsmanship, it lets kids join the clan on longship raids to earn a place in Valhalla alongside Thor and Odin.
Prepare to set sail and explore new worlds with Liontouch's complete Viking costume line! Featuring toy weapons, a shield, an axe, a helmet, and a cape, kids can dress up like authentic Scandinavian warriors in full armor.
LOOYAR Middle Ages Medieval Viking Age Horned Viking Helmet Berserker...
Horned Viking Helmet Toy. The Vikings were traditionally known to be ruthless fighters who first landed in Great Britain and later in North America. Their famous horned viking helmets were passed down from generation to generation.
Fully Wearable Adult Size Fits Most Adults. Dimension: 13.8"L x 8.3"W x 10"H.
Made of light weight plastic. Polyvinyl Chloride with realistic metal appearance colored paint.