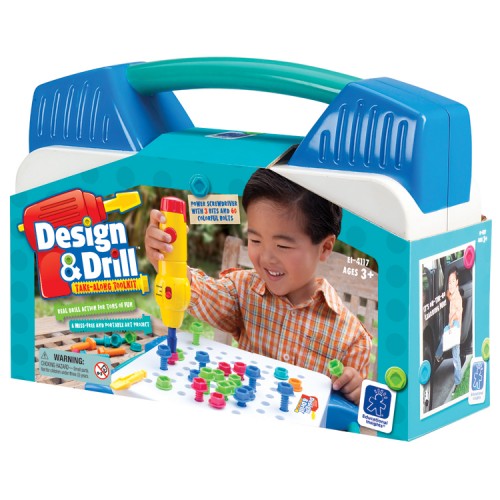 item number w-ei-4117
Design & Drill Take Along Tool Kit
List Price
34.99
Lowest Price

19.6

You Save
$15.39 (44%)
Ships FREE with $25+ order
Gift wrap is available
Satisfaction guaranteed
Easy returns
Buy Now
Estimated delivery
1 to 3 business days
Expedited delivery available.
Young builders will love drilling the chunky bolts into the activity board using the real power screwdriver for tons of creative fun.
Develops skills: Creativity, Imagination, Planning Skills, Shapes and Colors, Manipulative Skills
Educational Toys Planet welcomes the travel version of the bestselling Design and Drill Activity Set. Take your creative drilling workshop on the road with the Design and Drill Take Along Tool Kit by Educational Insights. This portable craft set brings tons of fun allowing children to create unique designs with the bolts. The screwdriver can work in reverse with the press of a button – it can take out screws too. The project guide includes 12 unique mosaic design patterns that you can make using your tools and bolts on the activity board. Young builders will love drilling the child-sized bolts into the activity board using the real power screwdriver for tons of fun! This portable mosaic kit can provide kids with fun wherever they go and doesn't make a mess or require any special ingredients. This portable art project kit includes 60 regular bolts in 5 vibrant colors, 3 bits, an electronic screwdriver, and an activity board that doubles as a sturdy carrying case so you can carry your power tool kit with you. The durable board into which you screw the bolts folds into a portable carrying case, so you can take your Design and Drill Take Along Tool Kit wherever you go!
Customers Also Bought
Product Details
| | |
| --- | --- |
| SKU | w-ei-4117 |
| Manufacturer Recommended Age | 3 years |
| Brand | Educational Insights |
| MSRP | 34.99 |
| Quantity Available in Stock | 23 |
| Manufacturer Part Number | EI-4117 |
| UPC | 86002041173 |
| Amazon ASIN Code | B003DKKKTK |
| Category | Toy Tools Sets |
Toy Choi's Electric Toy Drill Kid Pretend Play Drill Toy , Kids Tool Drill Kid Tool...
【Realistic Features】 This electric drill is equipped with three replaceable drill bits with different functions. And it has three states, you can choose two directions of rotation clockwise and counterclockwise, you can also maintain the drill stationary. When the electric drill is working, the drill bit will rotate and with the adjustable light which just likes a real tool.
【Easy Operation】 When the switch was turned on, the drill will buzz which just like a real tool. Our tool electric has a lightweight body that easy to grab and easy operation for your children. It is ready to work!
【Independent Slot Design】 Different from other electric drill toys, our product has an independent slot design. As long as you gently pull down the button on the back of the electric drill toy, you can easily remove the slot and install the battery (2AA batteries are not included), which is very convenient. This slot can also be applied to other products.
【Great Educational Toy】 With a drill toy to work is a great way to increase your children's interest in outdoor activities which can help your kids a lot, it plays an important role in developing kids' ability of hand-eye coordination, observation, exploration, and strengthen team coordination ability. Let's go on and enjoy your work time!
【High-Quality Material & Safty】 The quality of the product is always our priority, the tool drill is made of BPA-FREE, non-toxic, fully recycled, and high-quality ABS plastic materials that have no harm to your kids' health. In addition, we will make sure that there will be no sharp edges on every single accessory which allows your kids to work happily.
My First Power Drill Set - Real Cordless Drill for Boys and Girls - Lightweight, LED...
OUR PATENTED REAL CORDLESS POWER DRILL IS DESIGNED FOR KIDS – As parents, we know how frustrating and unsafe it is for little helpers to use tools made for adults. My First Power Drill fits comfortably and safely in small hands and is specifically calibrated for young builders! Its lightweight, cordless design features a slip-free grip, LED light to increase focus, and sealed battery that is easily charged with a removable power cord when not in use.
FULL 60 PIECE DRILL SET INCLUDED – My First Drill Set by DIY Jr. includes everything your family needs to teach a young builder about the basics of proper power drill usage. Along with the kid-sized, cordless drill, you get a variety of ratchet, driving, and drill bits, assorted screws and bolts, USB charging cord with AC/DC adapter, Getting Started guide, and handy hardshell carrying case.
LIGHTWEIGHT DRILL AND CASE MAKES IT EASY FOR CHILDREN TO CARRY AND HANDLE – My First Power Drill is a real drill set for kids to build and learn with! The child-size case is light and compact, so your little helper can easily carry it on his or her own. The drill is made to fit a child's hands, and the rechargeable battery compartment is sealed within the handle to reduce weight and keep use safe and cord-free.
BUILD THE LEGACY – Working side by side with your child is an invaluable way to teach them essential skills as well as proper tool safety, use, and care. Someday, what you teach your child or grandchild will be passed on to their kids, along with the excitement and satisfaction of learning to build and create with their own two hands. The future starts at home. *ADULT SUPERVISION AND GUIDANCE REQUIRED*
PERFECT DIY GIFT FOR KIDS WHO LOVE TO HELP WITH PROJECTS AT HOME – The DIYjr. Drill Set is a versatile tool for young crafters and do-it-yourselfers, so it makes an awesome and exciting gift for boys and girls who love to help dad and mom around the house. It's a fun educational gift idea for birthdays, Christmas, and Easter that they're sure to love!
TOY Life Kids Tool Set with Kids Tool Belt & Electronic Toy Drill - Construction Tool Set...
🛠️ Upgraded Tool Belt for Kids - The kids play tool belt is made of high fiber, high elastic and thick fabric, and is mended with tight stitches. It is also reinforced with multiple top lines, which makes the boys tool belt last longer. The bag has 7 storage Spaces, 2 large Spaces for small parts and 5 for hanging tools accessories.
🛠️ Premium Quality Realistic Electric Toy Drill Set - The STEAM Life Toy Drill is battery powered and works like a real drill. The toy play tools will have your little one pretending to be like mommy or daddy or their favorite fictional handyman.
🛠️ STEM/STEAM Educational Toys - Designed to activate the imagination of your toddler, this toolkit comes complete with 19 realistic pieces to keep your boy or girl busy for hours at a time.Now your 3 4 5 6 or 7 year old son or daughter can help you around the house.
🛠️ Pretend Play Construction Tools Set - These Kits include a battery powered electric toy drill, kids tool belt, needle nose pliars, hammer, screwdriver (flathead and phillips), clamp, anchors screws, measuring tape a piece of play wood and safety goggles.
🛠️ STEAM LIFE 12 MONTH GUARANTEE: Buy with confidence. If anything happens to your kids tool set within the first 12 months of owning it, we will replace it at no charge to you. At STEAM Life customer satisfaction is our top priority.
JoyTown Kids Real Power Drill Set – Electric Cordless Drill Tool Kit for Children with...
REAL POWER DRILL SET FOR KIDS – The cordless power drill and bits in this kids tool set are all real tools. It's a must to use them with adult supervision. Really tools bring much better experience to your kids when they are using them. The grip size of the drill is specially designed to fit kids hands. The max torque force is limited to 3N.m, which is to ensure it will not hurt your kids and fit for most of the work of beginners.
ALL BITS YOUR FAMILY NEEDS – This drill kit includes all bits you will need to teach your children about the basics of how to use a power drill. They are 28pcs screwdriver bits in 1" long (7pcs Slot, 4pcs Phillips, 4pcs Pozidriv, 7pcs Torx & 6pcs Hex), 4pcs screwdriver bits in 2" long (2pcs each Slot & Phillips), 8pcs Socket Wrench, 2pcs Twist Drill bits and a flexible shaft for using in narrow space.
EASY & SAFE TO USE, HELP BUILD YOUR KIDS' DIY SKILLS – The built-in battery makes it a cordless power drill, also with the slip-free grip in small size and the hand strap, help your kids hold the drill more comfortable and firmly. The LED light increases focus. All components are packed in the portable carrying case. It's a perfect set for the young crafters to build and improve their DIY skills.
ULTIMATE GIFT IDEA: Perfect drill tool set for boys, girls, kids, teens and adults. Practice your kids' hand-on skills, activate their imagination, keep your boy or girl busy for hours at a time. This pretend play educational tool set is a perfect gift for Christmas / Birthday.
OUR POLICY: 100% Satisfaction Service. Get it and try it. If you don't like it, don't worry, Just contact with us, we provide 100% no-asking return or replace after-sales service.
KODATEK Take Apart Toys for 4 5 6 7 8+ Year Old Boys Girls, with Engine & Electric Drill...
🚗【Take Apart Toys Set】: This DIY Assemble toy Is Ideal For Boys And Girls Who Like Taking Things Apart. Total 105 Pieces Set Comes With Plastic Drill, Screws And Car Parts Needed To Assemble, Take Apart, Reassemble, Fix & Repair. These Retro Assemble Toys include 4 Packs- Airplane, Ship, Train, Car in it.
✈️【Premium Safe Material】: KODATEK Take Apart Car Set Is Made Of Environmentally- Friendly Abs Materials, Have Passed The Strict Test Of Certified Labs Have Achieved US STARDAND. High Ductility And Tasteless Non-Toxic, BPA Free, Great Quality And Fun Car Toys For Boys And Girls Ages 4+.
⛴️【Fun STEM Learning Toys】: Car Toys For Boys And Girls To Take Apart Car And Put It Back Together By Provided Manual Screw Driver Or Electric Drill, By Taking Apart And Re-Assembling Process, It Will Not Only Entertain Child, But Also Improve They're And Build Their Cognitive Skills, Fine Motor Skills, And Construction Skills. Besides, It also encourages patience and a taste of engineering at a very early age.
🎁【Kids Holiday Perfect Gift】: Perfect Engineering Toy Is A Must-Have For Boys, Girls, And Gadget-Lovers! Toys Are Perfect Gifts For Kids About Birthdays, Christmas, Holidays, Party And Other Special Occasions! Preschooler Toy Suitable For The Kids Over 4 Years Old (Toys for 4 5 6 7 8 9 10-Year-Old Boys and Girls)
🚂【Money Back Guarantee】: We Stand Behind Our Premium Quality Set, If For Whatever Reason Your Unsatisfied Receive A Full Refund No Questions Asked Thank You.
SMTAEMFB Kids Tool Set with Electric Power Drill Toddler Pretend Play Tool Toys...
🔨🛠🔧🔩100% Safety& Durable Kids Tool Sets: Our kids tool set is made of Non-toxic, BPA-Safe, Lead-Safe, Phthalates-Safe ABS material,Conform to ASTM F963-17 US safety standards. Smooth Round-Edging & Strictly size design to avoid scratching hands. Safe play without any security issues.
🔨🛠🔧🔩Realistic Simulation Tool Functions: Our Toddler tool set includes a power drill(with 3 different interchangeable bits) that simulates the sound and movement rotation of the drill by pressing the trigger button. Your child can excitedly imitate the parents to fix things by using these simulations tools at home.
🔨🛠🔧🔩32PCS Pretend Play Kids Tool Box: This tool box with portable handle for easy carrying and storage, just like dad's tool box.Inside come with electric drill,hammer, saw,goggles,mask,working overalls,locking pliers,wrench, screwdriver,screw,wood pieces.,etc. All tools are fully functional and realistic which make it easy for children to get involved.
🔨🛠🔧🔩STEM Pretend Construction Tool Toy: This pretend construction tool set is not only a fun toy, but also a educational learning tool. Kids could use each tool to pretend a small repairman to fix things. They can learn the functions and names of tools which well Inspired toddler's imagination,creativity,motor skills, hand-eye coordination and patience. Lay the foundation for kids to use tools to repair items in the future.
🎁🎁🎁🎁Ideal Kids Educational & Fun Gift: This toy tool set will be the perfect gift for birthday party favors,Christmas,Festival holidays,early education toys, preschool props, teaching aids, reward surprise, after-school play etc.Recommended for kids ages 3 and up.We offer each client 100% satisfactory lifetime and 12-month guarantee to ensure the enjoyment of your purchase. Feel free to contact us if you have any issues.
Educational Insights Design & Drill Bolt-It Bucket STEM Toy, 56 Pieces with Electric Drill...
KIDS DRILL SET: Busy builders can bring this drill set wherever for construction fun on the run – the bolts and drill fit easily inside the bucket for on-the-go building and fun
CREATIVE, CONSTRUCTION PLAY: Use the kid-friendly Power Drill to attach colorful bolts to the lid on the sturdy building bucket. Have them create their own custom designs or use the 10 included patterns found in the guide
STEM TOY FOR 3+: Little ones learn the basic of simple construction and engineering while building fine motor skills with tools designed just right for little hands
INCLUDES: Kid-friendly toy drill, 52 bolts in 4 different colors, see-through bucket with handle and activity board lid, and guide with patterns. Drill requires 3 AAA batteries (not included). Drill Patent No. US D929,837
SPARK MORE PLAY: Keep the fun (and learning!) going with FREE Design & Drill activities developed by teachers at Educational Insights.
STEAM Life Kids Toddler Tool Set - Toy Tool Set with Electric Toy Drill, Kids Tool Box,...
PRETEND PLAY CONSTRUCTION TOOLS - This kit includes everything your little one needs to play the role of a mechanic contractor or handyman. Comes with a battery powered electric toy drill, drill heads, pliers, toy hammer, screwdriver (flathead and Phillips), wrench, nuts and bolts, measuring tape, planks and safety goggles.
PREMIUM MATERIAL REALISTIC ELECTRIC TOY DRILL SET - The STEAM Life Toy Drill is battery powered and works like a real drill. The toy play tools come in perfect size for little hands to enjoy the imaginative play of real working toy tools. It's a great learning tool and helps strengthen your child's sensory skills and practical skills.
HIGH-QUALITY TOOL CASE INCLUDED FOR EASY CLEANUP AND STORAGE - Now you don't have to worry about tripping over pieces or losing them easily. When your little one is done playing with this set, they can pack everything away nicely into the tool box, until they're ready to play again.
STEM EDUCATIONAL TOYS - Designed to activate the imagination of your toddler, this toolkit comes complete with realistic tools to keep your boy or girl busy for hours at a time. Now your 3 4 5 6- or 7-year-old son or daughter can help you around the house.
STEAM LIFE 12 MONTH GUARANTEE: Buy with confidence. If anything happens to your kids toolset within the first 12 months of owning it, we will replace it at no charge to you. At STEAM Life customer satisfaction is our top priority.
iBaseToy Kids Tool Set - 32 Pieces Pretend Play Construction Toy with Tool Box, Kids Tool...
⚒⚒🔨 32 Pieces Toy Tool Set for Kids: Everything your little one will need to become an engineer is in this kids tool set. It comes with 32 realistic pieces to get tough jobs done just like mom and dad, which will keep your boy or girl busy for hours at a time.
⚒⚒🔨 Toolbox Included for easy carry and storage: This toy tool set includes a tool box for carrying and storage, kids can pack everything away nicely into the tool box and you don't have to worry about tripping over pieces or losing them easily.
⚒⚒🔨 Great Tool Belt Design for Pretend Play: This kids tool belt is specifically made for kids to hold and use comfortably, which features a slot for each tool. The belt is suitable for waist 19 inch to 28 inches.
👩‍🚒🎎 Real Function Toy with Realistic sounds and action: Our Tool set Box is fully functional and realistic! The drill makes real sound & action (2 AA Batteries are required, not included.) Equipped with 3 different tool heads, kids can replace according to their needs.
🔝🔝📤 Premium Quality: All toy tools are made of sturdy pp material, so no worry about the kids dropping, throwing. And it will last long as well as the tool belt and storage box.
Creative Mosaic Drill Set, Building Toys for Kids Ages 4-8, STEM & Construction, with...
Harness The Power Of Play! Give your little brain box, builder, or baby engineer a real head start with our creative mosaic drill set for kids, with 100+ infinitely combinable, rainbow pieces, real fasteners and a kiddie safe, battery powered drilling toy for hours of creative, brain-building fun!
Creative Drilling Toy with Screwdriver Tool Playset! Our kids toy drill and screw set includes a toy screwdriver, fun wrench and a realistic, trendy bits drill for kids with 3 heads! Watch as they grow in confidence and learn to fasten, disassemble, and complete rewarding tasks on their own!
Develop STEM Skills Early! Drill mosaic set perfect for giving your little engineer a jump in STEM skills! Each kids drill and screw set maxes out their spatial awareness, logical problem solving, visualizing & planning, fine motor skills & hundreds of other essential cognitive skills through play with STEM toys!
Includes A Plastic Easy Storage Board! Ideal for fast cleanup after creative building & play, our electric drill toy mosaic set comes complete with a full plastic storage board & tray that easily holds all 100+ pieces, for rapid, mess-free cleanup and easy storage for carrying place to place!
100% Child Safe Quality Guarantee! Certified completely free from lead & other harmful material, our drill play set is 100% safe for little hands & baby builders! Designed by a family business & backed by our exceptional customer service, delivering fun for your whole family! Click "Add to Cart" now!