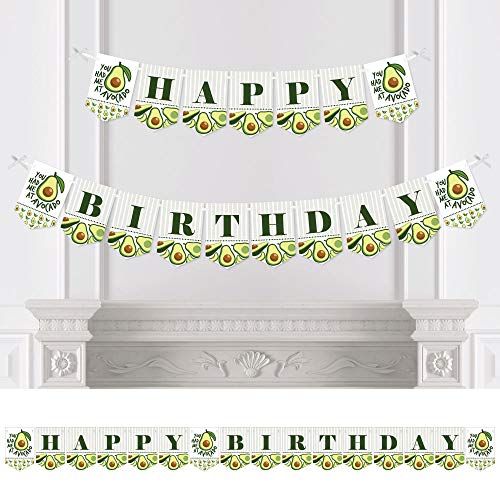 Big Dot of Happiness Hello Avocado – Birthday Party Bunting Banner Decorations Happy
Ships FREE with $25+ order
Gift wrap is available
Satisfaction guaranteed
Easy returns
Buying Options
Estimated delivery
1 to 3 business days
Expedited delivery available.
Hello Avocado Bunting Banner is an impressive birthday decoration for your party. Avocado Birthday Bunting Banner Decoration Kit INCLUDES Hello Avocado HAPPY BIRTHDAY letter pennants, avocado themed pennants, satin ribbon and non-marking wall mounts for hanging.
Avocado Birthday Party Bunting Banners SIZE: Each pennant measures 8.5 inches high x 5.5 inches wide. Ribbon measures 24 feet long and 3/8 inch wide. BIRTHDAY PARTY DECORATIONS: A Hello Avocado Party Bunting Banner is an easy way to decorate for your party and bring your avocado theme to life. Hang at the entrance of your birthday party over the food table or candy buffet at the gift table or behind the head table. Manufactured by Big Dot of Happiness. PREMIUM BIRTHDAY PARTY SUPPLIES: Hello Avocado Bunting Banner is professionally printed on sturdy cardstock paper. Each pennant is individually inspected then carefully packaged by hand. Fiesta birthday bunting banners require some easy assembly. Following the number sequence on the back of each pennant simply string the included satin ribbon through the pennant slots. Create multiple rows by cutting the ribbon to your desired length or hang as one long banner. MADE IN THE USA: Hello Avocado- Party Bunting Banner is designed and manufactured at our Wisconsin facility. Hello Avocado Bunting Banner is an impressive birthday decoration for your party. Avocado Birthday Bunting Banner Decoration Kit INCLUDES Hello Avocado HAPPY BIRTHDAY letter pennants avocado themed pennants satin ribbon and non-marking wall mounts for hanging.
Customers Also Bought
Product Details
| | |
| --- | --- |
| SKU | etp-ex-B07QTC8DXL |
| Quantity Available in Stock | 39 |
| Dimensions of Package | 0.5x5.75x8.75 |
| Manufacturer Part Number | BT4303bu-gen |
| Amazon ASIN Code | B07QTC8DXL |
| Category | Kids Decorating |
Fruit Avocado Party Decorations, Cute Avocado Theme Birthday Party Supplies...
What a Valuable Package: This party package has everything you need for your birthday party. HAPPY BIRTHDAY banners and 1Pc avocado garland, which with vivid avocado patterns. 4Pcs adorable avocado patterns table centerpieces, 4Pcs foil balloons(2Pcs avocado balloons, 2Pcs round foil balloons), 10Pcs cute avocado cupcake toppers, 50Pcs latex balloons( deep green, light green, light yellow balloons, 15Pcs / color, 5Pcs brown balloons), 1Pc balloon arch decorating strip, 40Pcs glue points.
Product Size: HAPPY BIRTHDAY banner is 6.2in x 7.8in by 8.2ft. The avocado garland is 4.1in x 6.4in by 8.2ft. The avocado cupcake topper is 1.7in x 2.3in. Avocado foil balloon is 23.6in x 21.6in, round foil balloon is 18in, latex balloon is 12in.
Great Quality: All of the banners and cake toppers are made of strong paperboard, the balloons are made of natural latex or foil. High-quality products allow you to decorate an amazing party.
Old World Christmas Avocado Guacamole Glass Blown Ornaments for Christmas...
ORNAMENTS FOR CHRISTMAS TREE: Hand crafted in age-old tradition with techniques that orginated in the 1800s
CHRISTMAS DECORATIONS: Molten glass is mouth-blown into finely carved molds
UNIQUE GIFTS: Ornaments are all hand-painted and glittered in a series of labor-intensive steps to achieve the beautiful creations
Big Dot of Happiness Hello Avocado - Fiesta Party DIY Decorations -...
Clothespin Garland Banner - 44 Pieces INCLUDE: 24 small shaped cut-outs, 20 large shaped cut-outs, 50 mini clothespins, and 10 yards white 2mm satin cord. Some simple assembly required.
DIY PARTY SUPPLIES: Hello Avocado small paper shaped cut-out SIZE 6 avocado paper die cuts (3" X 1.5"); 6 avocado paper die cuts (2.75" x 2.5"); 6 avocado paper die cuts (2.25" x 3"); 6 avocado paper die cuts (2.5" x 3"). Hello Avocado large paper shaped cut-outs SIZE 20 avocado measures (5.25" x 7").
EASY PARTY DECOR: Style any fiesta party with Hello Avocado clothespin garland banner. Before hanging, plan out your desired pattern by alternating in sizes. Using a miniature clothespin, clip shapes on the included cord. Hang finished DIY garland banner at the entrance of your party, over mantelpiece, along buffet tables as banner decoration. After the party, reuse the clothespins and cord to hang event photos as a fun keepsake.
Big Dot of Happiness Hello Avocado - Fiesta Party Hanging Decor - Party...
Party Decoration Swirls - Set of 40 INCLUDES 4 different shapes, 10 count per shape, that hang below an accordion-style spiral with included clear hooks. 10 swirls SIZE 5 inches x 5 inches with length about 11 inches. 10 swirls, SIZE 7.75 inches x 5.5 inches with length about 9 inches. 10 swirls, SIZE 5 inches x 4.75 inches with length about 4 inches. 10 swirls, SIZE 3 inches x 2.75 inches with length about 3.5 inches.
PERFECT FOR ANY EVENT: With different hanging lengths and a variety of shapes and sizes, Party Decoration Swirls are perfect for fiesta parties. Add a pop of color when displayed over the gift table or dessert buffet. Or, add your own string if you would like them to hang lower in your party space.
EASY TO USE: Each decoration swirl in the 40-piece set has a pre-cut hole for easy assembly using the included clear hooks. Party decoration swirls will arrive flat. Take a clear hook and insert the bottom bar into the pre-cut hole. Once the clear hook is fastened, gently stretch the swirl and hang it up.
Avocado Coin Purse Pouch | Realistic Looking Avocado Wallet | Funny Novelty...
Avocado Novelty Gifts: This cute funny avocado wallet makes an amazing gift for all avocado lovers. Perfect gifts for all ages including girls, teens, and women. Avocado gifts for women
Avocado Lover Accessories: This well secured coin pouch will hold all of your cash and coins.
Realistic: These avocado novelty gifts are great decor and decorations for your home. These items are so real your family and friends will never know that it's a fake avocado! Measures: 4in x 2.5in x 2.5in
2 Pieces Fruit Avocado Birthday Tablecover, Avocado Baby Shower Tablecloths...
Ample Amount to Use: you will receive 2 pieces avocado party plastic table cloths to start your party dress up now, and the vibrant colors will make your party a hit, a nice combination for you to use in parties and events
Portable Size and Light Weight: the avocado table cover measures approx. 86.6 x 51.2 inches, fitting most party and candy tables, which is also a nice way to fight stains, spills, and drink rings
Lovely Prints: the green avocado decoration is covered with a variety of avocados which are designed in sliced and whole, bringing a good mood and making your party full of fun and happiness
50 PCS Funny Avocado Stickers Kids Teens Adults Cartoon Avocado Vinyl...
【 Wide Applications】 -- These Avocado Stickers can be attached to laptop, suitcase, computer, skateboard, refrigerator, wardrobe, wall, guitar, car, motorcycle, bike, etc. 50 different patterns to satisfy your decorating wish
【High Quality Materials】 --All our Stickers are made of superior vinyl PVC. It's waterproof and sun-proof, can ensure the gloss and brightness of the material for a long time(Durable) . Apartment from that, this sticker uses non-marking glue, has excellent repeated tackiness, leaves no residue after peeling, and can be reused (removable) .
【Easy To Use】 -- Get your stickers, clean the surface of the object, tear off the bottom paper of the stickers, and firmly stick the sticker on the surface of the object, leaving no gaps. Just feel free to customize your belongings, make your personality shine! PLEASE ATTENTION: These Stickers Are Not Applicable to Rough And Uneven Surfaces.
JOPARY Fruit Avocado Birthday Decoration ,Avocado Party Supplies with...
🥑【What You Can Get】-1*avocado HAPPY BIRTHDAY banner,1*avocado garland,1*big cake topper,12*cupcake toppers,18* cute latex balloons.Totle 33pcs to help you crate a wonderful and special avocado birthday party.
🥑【Special Design】-The cute avocado pattern and disign will bring surprises and unforgettable experiences to your children and guests.It makes you feel as if you are in the world of avocado, comfortable and happy.
🥑【Suitable for different Party】-The avocado birthday party decorations are perfect for deffirent parties, kids avocado birthday party, fruit themed party,summer party ,avocado themed baby shower .
Avocado Paper Plates for Birthday Party and Fiesta (7 x 10 In, 48 Pack)
SERVES 48: Includes 48 party plates; add to the dining table setting, or use them at the buffet and dessert table
AVOCADO PARTY DECORATIONS: The green paper plates feature an avocado design; ideal for creating a celebratory atmosphere and perfectly coordinated theme for your birthday party, Cinco de Mayo, barbecue, picnic, or Let's Fiesta Mexican-themed party
QUICK AND EASY CLEAN UP: An ideal alternative to traditional plastic party plates, simply dispose of paper plates set after use; no need to stop the fun to clean up