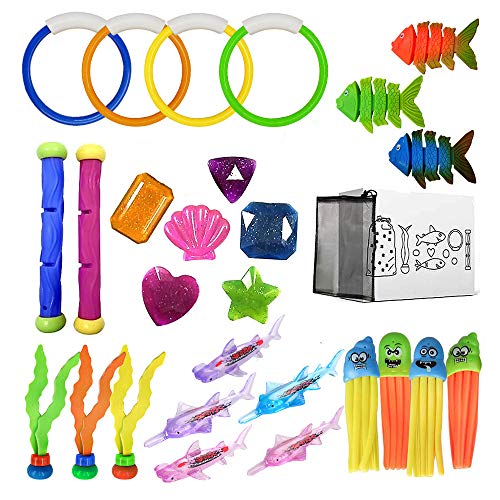 Dive Pool Toys: Swimming Training Toy Dive Summer Water Fun for Rings Sticks Shark
Ships FREE with $25+ order
Gift wrap is available
Satisfaction guaranteed
Easy returns
Buying Options
Estimated delivery
1 to 3 business days
Expedited delivery available.
Easy To Use: Simply throw the dive toys into the pool wait for them to sink to the bottom and then go in after them! Diving Rings can stand upright at the bottom of the pool which can be easy to grab. Excellent way to improve your diving skills and have fun with your friends and your family! Easy Grab And Smooth: Our swimming/diving pool toys set for kids edge design smoothness and easy grab without worry about hurting your kid's little hands. Manufactured by ANDRIMAX. Easy To Carry : These diving toys are super easy to carry them around the bathtub swimming pool beach sea and ocean. Perfect for party favors outdoor activity and travel. Great For Swim Training Practice:The pool toys set makes great diving toys for pool beach tub yard and more. The colorful toys for the swimming pool encourage confidence in any type of water settingand build swim skills by fun. Use the kid pool toys to bond with your kids! Child Safety & Size: 100% Non-toxic ABS material ASTM Safety Test Approved. Meets US toy standards. Perfect diving toys sets with 4 diving rings (soft rubber) 2 diving sticks 3 diving grasses 6 diving gems (glow) 5 diving transparent sharks and 4 diving jellyfish. Recommended for people over 3 years old.
Customers Also Bought
Product Details
| | |
| --- | --- |
| SKU | etp-ex-B08385HY7T |
| Quantity Available in Stock | 19 |
| Manufacturer Part Number | watertoys00 |
| Amazon ASIN Code | B08385HY7T |
| Category | Kids Decorating |
ZHFUYS Diving Pool Toy Underwater Swimming Throwing Diving Torpedo Shark,4...
Simple packaging Pool toys:The shark torpedo was thrown into the water and flew out like an arrow, much like a shark swimming. diving games more interesting.
Swimming toy Shark torpedo size:length 4.7inches,The fin of shark are very suitable for gripping,diving toys for pool for kids, when playing in the water.
Pool diving toys:Using torpedoes underwater can learn to swim and increase the entertainment of diving .
Jasonwell Pool Diving Toys Games - 31 PCS Swimming Pool Toys for Kids Teens...
Encourage Swimming Learning through Fun Diving Games - Toss the dive toys into pool,watch them sink underwater,and start the fun treasure hunting pool games! Perfect way to improve children's diving and swimming skills while have fun with friends and families
Easy to Grab - The diving rings and sticks included in the pool sinking toys stand upright at the bottom of the pool, making it easy for all ages to grab
Premium Quality and Child Safe - The water toys are made of high quality original ABS material, non-toxic, safe to children and environment. Meet US toy standards and ASTM safety test Approved, safe for toddlers kids teens adults. Great pool toys for kids ages 4-8 8-12 3-10 and more
Underwater Pool Toys, Training Pool Diving Rings Swim Toys Dive Rings...
Package and Size: The pool toys set include diving rings (4 pcs) and dive sticks (6 pcs). Ring diameter 5.5 inches; stick length 7.1 inches; material: food grade plastic.
Interesting SwimToys: Dive rings and sticks can stand upright on the bottom of the pool. Brightly colored numbered pool diving toys.
Durable and Safe Material: The underwater kids pool toys are made of durable nontoxic plastic material. It is very sturdy and not easy to damage or fade.
Cakuni Underwater Swim Pool Diving Toys - Summer Swimming Dive Toy Sets -...
♥All-In-One Diving Pool Toys Set : 4 Diving Rings, 4 Diving Sticks, 4 Funny Faced Octopus, 4 Numbered Torpedo Bandits, 4 Aquatic Dive Balls. These underwater toys will bring your kids the Greatest Fun when swimming, also a good way to improve the Diving Skills!
♥Safety & Non-Toxic : These dive toys are made of 100% Non-toxic ABS material. The Smooth Edge Design ensures your kids won't get hurt when gripping and The Colorful Design helps your kids to easily find the targets!
♥Easy to Carry : these diving toys come with a free Storage Bag, super easy to carry them around the bathtub, swimming pool, beach sea and ocean. Perfect for party favors, outdoor activity and travel.
Funstuff Bonzai Dive Mermaids and Precious Dive Gems | Summer Pool and...
Diving Toys for Swimming Pools, Baths, and more! Perfect for fun all year round.
Includes 4 Brightly colored gems (Colors may Vary) and 3 Magic Mermaid Dive Toys (Colors may Vary)
Throw them in the Water ~ Swim & Dive to Capture Them All and Score Points for an awesome Competitive Game or for improving diving skills!
BANZAI 3 Piece Sparkle Mermaid Dive Toys - Glittery Sparkle Tails
Includes 3 Banzai Dive Mermaids with Glittering Sparkle Tails! (Colors may vary)
These Banzai Mermaids have a brand new color pattern featuring bright colors, and translucent tails full of shimmering glitter!
These mermaids are the perfect spring and summer pool toys and bath toys. Practice your diving skills while having fun!
24 Pcs Light up Pool Toys Dive Toys Light up Diving Gem Pool Toy Glow...
What You Will Get: you will receive 24 pieces of light up pool toys, 7 kinds of gradient colors including yellow, green, blue, red and the sufficient quantity and various colors can meet your party and daily decoration needs
Waterproof and Sturdy: the size of the pool dive toys is about 1.5 x 1.5 x 1.1 inches/ 3.75 x 3.75 x 2.75 cm, waterproof and not easy to break; So that you can play games in the pool both day and night
Glowing Pool Toy: the swimming pool toy has a sensor on the back, it will light up when it feels pressure, so once the diamond is thrown into the pool water, it will automatically light up; When not in use, pick it up from the water and shake it dry or wipe it down, it will stop shining
Chuchik Diving Toys 30 Pack, Swimming Pool Toys for Kids Includes 4 Diving...
THE ULTIMATE SWIMMING TRAINING TOY SET: Our diving toys set offers an impeccable chance to improve your kid's diving skills. The underwater diving rings and sticks settle at the bottom of the pool in an upright position, making it easy for one to grab while diving.
YOUR KID'S FAVORITE POOL ACCESSORIES: Our sinking pool toys will make a great addition to your swimming pool accessories for kids. They come with a storage net bag, making them easily portable. You can carry them to the beach, pool, or enjoy using them during bath time.
SUPERB QUALITY: Made to perfection using premium products. Our swimming pool toys for kids are made of 100% non-toxic ABS material. You simply get the best from us
32 Pieces Big Dive Gem Pool Toys Colorful Precious Dive Gems Diving Toys...
Sufficient Quantity: package includes 32 pieces of pool gems with 8 different shapes; Enough quantity and styles can meet your different decorative demands, the colors and shapes are random
Quality Material: the colored swim diving toys are made of quality acrylic and plastic material, reliable and sturdy, the color won't fade, and they can sink well into the swimming pool, with nice texture, high temperature resistance, can be applied for a long time
Exquisite: these diving gems are colorful and flash exquisite appearance, designed with big or small kind of crystal diamond shape, seashell shape, etc., colorful big diamond, mixed in blue, green, red, yellow, pink and so on, eye catching and attractive