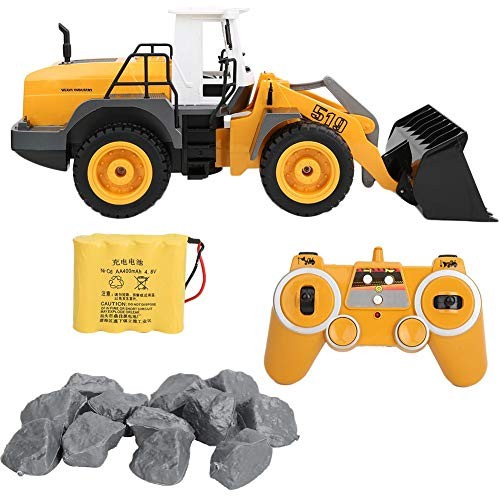 item number etp-ex-B083KFMCF5
Nannday RC Excavator E519 24G 1 20 Scale Remote Control Construction Engineering Toy Bulldozer Vehicle USB Charging Shovelcar Heavy-Duty Dozer Gifts for Kids Yellow
Lowest Price
Ships FREE with $25+ order
Gift wrap is available
Satisfaction guaranteed
Easy returns
Buying Options
Estimated delivery
1 to 3 business days
Expedited delivery available.
✔Bucket simulation loading/unloading function, one-click demonstration function, forward, backward, forward left bend, backward left bend, forward right bend, backward right bend, programming function, simulation light, start sound, engine sound, acceleration Sound, reversing sound, simulation sound, horn sound, mute function.
The remote control system uses a 2.4 GHz signal and has excellent immunity to interference so you can control the excavator 100 meters away. High simulation design you can move forward backward turn left and turn right the shovel can up and down. Strong sense of play more realistic. 1:20 remote bulldozer model using the hydraulic cylinder simulator each joint can move freely. The details of the bulldozer model are like real objects used indoors and outdoors such as sandboxes or small stones. Manufactured by Nannday. The bulldozer model uses a 4.8V 400 mAh lithium battery USB charging charging time of about 60 minutes and the use time is about 30 minutes. The heavy-duty remote bulldozer is large in size and high in stability. The rubber crawler grips firmly and moves forward and backward smoothly. High quality plastic/metal material non-toxic safe and durable suitable for children Bucket simulation loading/unloading function one-click demonstration function forward backward forward left bend backward left bend forward right bend backward right bend programming function simulation light start sound engine sound acceleration Sound reversing sound simulation sound horn sound mute function.
Customers Also Bought
Product Details
| | |
| --- | --- |
| SKU | etp-ex-B083KFMCF5 |
| Quantity Available in Stock | 7 |
| Dimensions of Package | 0x0x0 |
| Manufacturer Part Number | Nanndayivtywg174d-11 |
| Amazon ASIN Code | B083KFMCF5 |
| Packaged Product Weight | 3.7 |
| Category | Engineering Toys |