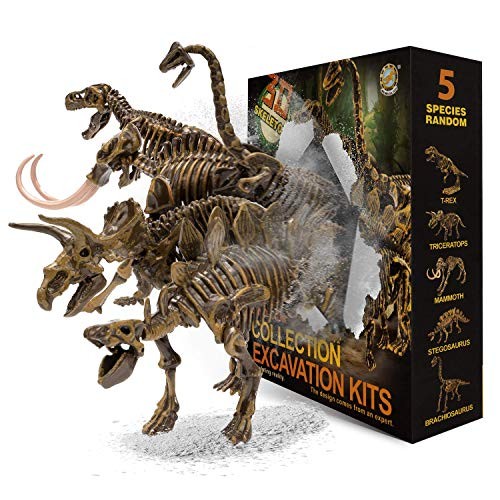 Fossils Excavation Kit for Young Archeologists
Ships FREE with $25+ order
Gift wrap is available
Satisfaction guaranteed
Easy returns
Buying Options
Estimated delivery
1 to 3 business days
Expedited delivery available.
✪Random Dinosaurs and Surprises✪There is a random dinosaurs(T-REX、TRICERATOPS、MAMMOTH、STEGOSAURUS、BRACHIOSAURUS)You won't know which dinosaur is facing you before you start digging!Opening the door to Jurassic World
KIT INCLUDESA dig brick packed with dinosaur and learning guide. Cool Toys and Cool Gift Let your child complete an archeological excavation process by digging brushing and splicing like a real paleontologist.How was an amazing experience! Manufactured by muscccm. A FUN AND EDUCATIONAL GIFT FOR ALL AGESIt's not often that a science project can be fun and engaging but this kit achieves both!It's can cultivate children's practical ability independent thinking ability to stimulate children's potential to give full play to the children's imagination space. Environmentally safe materials Made of durable BPA-free vinyl with realistic details and good toughness that won't break easily.No Pollution Odorless Safe and Non-toxic Environmental Gypsu. Random Dinosaurs and Surprises There is a random dinosaurs- T-Rex you will not know which dinosaur is facing you before you start digging!Opening the door to Jurassic World
Customers Also Bought
Product Details
| | |
| --- | --- |
| SKU | etp-ex-B0828296X3 |
| Quantity Available in Stock | 29 |
| Manufacturer Part Number | 7.51677E+11 |
| Amazon ASIN Code | B0828296X3 |
| Category | Science Kits |
Dinosaur Fossil Digging Kit for Kids, Dinosaur Eggs Excavation Kit, Dino...
3 KINDS OF DIFFERENT DIGGING FUN: 1. Dinosaur head fossil: Child can excavate 5 real dinosaur fossils including 2 tyrannosaurus tooth, 1 tyrannosaurus claw & 2 lava stones! 2. The dinosaur bones inside Brick can assemble 3D T-rex skeleton. 3. 6 pieces Dino Eggs Dig Kit & discover 6 unique dinosaur designs. Feel like a real paleontologist excavating up unique toy dinosaurs from 3 digging styles.
FUN AND EDUCATIONAL: A science project usually can be engaging, but no so funny. But the science kit achieves both! Great set for individual play or as a group activity. It fascinates children as soon as they pull it out of the box and is a perfect STEM project. It fosters a love for science and paleontology in a fun and exciting way.
ENVIRONMENTALLY SAFE MATERIALS: The fossil digging kit is composed primarily of gypsum. No Pollution, Odorless, Safe and Non-toxic.
VIBIRIT Dig Up Dinosaurs Skeleton Set,Dinosaur Digging Fossil Kit Model...
【Different Surprises】-There is a random dinosaur inside, every time you dig a dinosaur it is a surprise and excitement. These perfect and realistic dinosaur pictures can fully satisfy the curiosity of children.
【Cultivate operational ability】-The fun of digging dinosaurs is not just the digging process. The excavated bones need to be cleaned and assembled, which can not only improve the child's mobility, but also improve the child's memory and increase the baby's self-confidence.
【Archaeological excavation of dinosaurs】-Let children learn the fun and function of archeological excavations by tapping, brushing, and shovel, and training their senses. Understanding more about dinosaurs and understanding nature is of great teaching significance.
NATIONAL GEOGRAPHIC Mega Fossil Dig Kit - Excavate 15 Prehistoric Fossils...
DIG UP PREHISTORIC FOSSILS – These genuine fossils are millions of years old! Dig for dinosaurs, sharks, brachiopods, mosasaurs, ammonites, and more. This Mega Fossil Dig Kit is one of our top learning toys, providing hours of educational fun, and helping to inspire a lifelong love of learning!
EXPLORE PALEONTOLOGY – Excavate incredible, real fossils using the included tools of the trade: a chisel, brush, and magnifying glass. This kit makes an excellent STEM gift for boys and girls!
16-PAGE LEARNING GUIDE - This full color, detailed learning guide illustrates how fossils are formed and helps young scientists identify each specimen as it's discovered. National Geographic educational toys make science and learning fun and are the perfect STEM activity for kids!
NATIONAL GEOGRAPHIC Earth Science Kit - Over 15 Science Experiments & STEM...
MASSIVE SCIENCE KIT FOR CURIOUS KIDS - More than 15 experiment activities including dueling water tornadoes, building an erupting volcano, growing a crystal, two geologic dig kits, and more
ENOUGH TO GO AROUND - This science lab allows kids to conduct multiple experiments and is great to share with family, friends, or classmates; you will enjoy the magic of discovery together
THE SECRET IS THE SCIENCE - A detailed learning guide teaches the science at work in the experiments, allowing your child to develop a deep, lasting appreciation for a variety of Earth sciences
The Young Scientists Club Exploring Fossils, at-Home STEM Kits for Kids Age...
DIG & EXCAVATE 18 REAL FOSSILS: Use the Young Scientists Club Exploring Fossils kit and the included paleontology tools, like a mallet and chisel, to perform your first excavation and find dozens of real fossils!
IDENTIFY REAL FOSSILS: Get a closer look at your findings with the magnifying glass, then identify each fossil with the included collector cards! Which one is the dino bone?!
BONUS GAMES: When you're all finished excavating, put your knowledge of the prehistoric world to the test! Challenge your friends and family to a dino-mite game of fossil bingo, matching, and guessing games!
Mega Fossil Dig Kit - Educational STEM Science Toys for Kids Ages 4-12 Year...
Dig up 15 real fossils: Let your child feel like a real paleontologist digging up authentic fossils buried in the dig brick. Discover dinosaur bones, shark teeth, brachiopods, ammonites and much more. Follow along with the beautifully illustrated 20-page booklet describing each fossil.
Kit includes: Large dig brick (with 15 types of fossils buried inside), chisel, mallet, brush, 20-page gorgeous learning & instruction guide, and small sachet to store all the fossils. Includes everything needed for the young scientist to excavate the fossils with ease, and gain a deeper understanding of them.
A fun and educational gift for all ages: It's not often that a science project can be fun and engaging, but this kit achieves both! It fascinates children as soon as they pull it out of the box and is a perfect STEM project. It fosters a love for science and paleontology in a fun and exciting way.
Dino Egg Dig Kit-12 Dinosaur Eggs Dino Egg Excavation Kit for Dinosaur...
Dino Egg Excavation Kit are great for birthday dinosaur-themed parties, Easter Egg Hunt , perfect gift for dinosaur lovers,cool toy for curious kid and also can used in preschool while doing a unit on dinosaurs
Safe and Funny Dino Egg Dig Kit. The upgraded dinosaur eggs toy set including 14 full colored learning cards, your kids will be very happy to have this archaeological dinosaur toy. It is great for individual play or as a group activity
Fun and Educational. Digging and discovering the hidden model dinosaur bring you great experience of being a real paleontologist , it's can train the kid's operating and observing ability well, and can also learn related dinosaur history knowledge.
ArtCreativity Dinosaur Excavation Kit for Kids, 5.5" T-Rex Dino Skull...
DISCOVER THE DINOSAUR: That young budding archaeologist will love this! Excavate away to discover the 5.5" T-Rex skull lying underneath. This excavation kit from our 'Discover the Dinosaur' series comes with the toy skull bone, 2 digging tools, and a display stand. (Not a real fossil)
KEEP THEM OCCUPIED: Looking for a fun activity to keep the kiddos engaged? This dino excavation kit for kids will certainly get the job done. It's great individual work and can also be used to keep a group of kids busy during sleepovers or even in the classroom.
FUN SCIENCE TOY: Expose the little ones to the wonders of the prehistoric world with this dinosaur excavating set. Spark a love for science with every dig, use this is a great opportunity to school them on the giant reptiles that roamed the earth, and introduce them to the cool science that is archaeology.
Gemstone Gem Dig Kit, STEM Educational DIY Toys Science Kit- Dig Up 15...
[DIG UP MINE GEMS] Get ready to excavate 15 precious gems just like a real geologist! Dig up and discover 15 different gemstones including natural Crystal, Amethyst, Topaz, Obsidian and More. Rinse off the remaining clay for play or to display in a rock collection.
[EXCAVATION ADVENTURE] As exciting as it is educational, our mining excavation kit encourages your child to learn about gemstones and the science of geology in a fun, hands on way. Sprinkle water on the mining site to soften it and then use the included excavation digging tools to dig up and discover each gemstone. Then, match the gems you find with the included classification guide to learn more about these precious stones!
[KIT INCLUDES] This giant 7" by 4" gemstone contains 15 gemstones, chisel, mallet, brush, magnifying glass, gorgeous learning & instruction guide, and small sachet to store all the gems. Includes everything needed, let's start.
Dinosaur Excavation Kits for Kids,Dino Dig Kits T-Rex,Triceratops and...
【EXCITING ARCHEOLOGY LESSON】DIY puzzle handmade products can cultivate children's practical ability, independent thinking ability to stimulate children's potential to give full play to the children's imagination space, comprehensive training of children's various skills, so that children develop good interests and hobbies
【TOP GRADE MATERIAL】Environmental Gypsum (No Pollution, Odorless, Safe and Non-toxic)Natural Resin (Resin Derived From Plant Secretions,Has No Harm to Human Body, Toughness is Good, and It is Not Easy to Break)
【LATEST PRODUCT】It's Lifelike (It's the same color as the dinosaur skeleton shown in the museum, the skeleton is stitched together and placed on your desk or bookshelf is your exquisite collection.) Exquisite Workmanship (Fine Skeleton,Jointed Dinosaur Joints Can Be Moved)